Bills vs. Ravens Prop Bets, Predictions - October 2, 2022
Published on:
Oct/01/2022
One of the better games on this week's NFL schedule, the Buffalo Bills take on the Baltimore Ravens.  Buffalo is a -3 favorite in this one.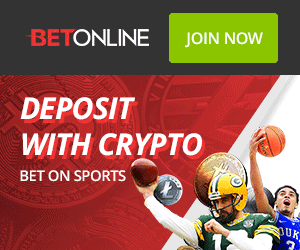 The line has mostly moved from -4 to -3.
There is a bit of an overlay - 1 to 2 points to be exact - as we come up with a number of Bills 2.18 after a review of the Sagarin power ratings.
A good comparable for this game includes Indianapolis -4 to -3 vs. Jacksonville a few weeks back whereby the home dog Jacksonville covered an d won.  This game featured a slightly larger overlay of between 3 and 4 points.
The Bills won their first road meeting with the Ravens, back in 1999, but have lost the next five at Baltimore.
Bills quarterback Josh Allen and Ravens Lamar Jackson are the NFL's only two players with at least 80 passing TDs and 20 rushing TDs since 2018.
In this clip, the BetOnline panel of NFL betting experts break down this key matchup on the NFL week 4 schedule: Buffalo Bills vs Baltimore Ravens.
Bills vs. Ravens Prop Bets
Rot     Player To Score First Touchdown     Moneyline
101     Stefon Diggs (BUF)         +700
102     Devin Singletary (BUF)         +900
103     Gabriel Davis (BUF)         +900
104     Josh Allen (BUF)         +900
105     Dawson Knox (BUF)         +1200
106     Isaiah McKenzie (BUF)         +1600
107     Jake Kumerow (BUF)         +2000
108     Jamison Crowder (BUF)         +2000
109     Zack Moss (BUF)         +2500
110     James Cook (BUF)         +4000
111     Khalil Shakir (BUF)         +4000
112     Quintin Morris (BUF)         +4000
113     Reggie Gilliam (BUF)         +6600
114     Tommy Sweeney (BUF)         +6600
115     Taiwan Jones (BUF)         +10000
116     Lamar Jackson (BAL)         +900
117     Mark Andrews (BAL)         +1000
118     Rashod Bateman (BAL)         +1100
119     J.K Dobbins (BAL)         +1400
120     Devin Duvernay (BAL)         +1800
121     Isaiah Likely (BAL)         +2200
122     Justice Hill (BAL)         +2200
123     Mike Davis (BAL)         +2500
124     Kenyan Drake (BAL)         +2800
125     Demarcus Robinson (BAL)         +4000
126     James Proche (BAL)         +5000
127     Josh Oliver (BAL)         +8000
128     Nick Boyle (BAL)         +8000
129     Patrick Ricard (BAL)         +8000
130     Tylan Wallace (BAL)         +8000
131     Any Other Touchdown Scorer         +700
132     No Touchdown Scorer         +10000
Rot     Josh Allen (BUF) Total Passing Yards     Moneyline
1001     Over  285½  Passing Yards     -115
1002     Under  285½  Passing Yards     -115
Must Start for action.
Rot     Josh Allen (BUF) Total Completions     Moneyline
1003     Over  24½  Completions     -130
1004     Under  24½  Completions     Ev
Must Start for action.
Rot     Josh Allen (BUF) Total Passing Attempts     Moneyline
1005     Over  37½  Passing Attempts     -145
1006     Under  37½  Passing Attempts     +115
Rot     Lamar Jackson (BAL) Total Passing Yards     Moneyline
2001     Over  229½  Passing Yards     -115
2002     Under  229½  Passing Yards     -115
Must Start for action.
Rot     Lamar Jackson (BAL) Total Completions     Moneyline
2003     Over  20½  Completions     Ev
2004     Under  20½  Completions     -130
Must Start for action.
Rot     Lamar Jackson (BAL) Total Passing Attempts     Moneyline
2005     Over  31½  Passing Attempts     -120
2006     Under  31½  Passing Attempts     -110
Rot     Winning Margin     Moneyline
3089     Bills to win by 1-6 pts         +320
3090     Bills to win by 7-12 pts         +500
3091     Bills to win by 13-18 pts         +700
3092     Bills to win by 19-24 pts         +1100
3093     Bills to win by 25-30 pts         +1800
3094     Bills to win by 31-36 pts         +2800
3095     Bills to win by 37-42 pts         +4500
3096     Bills to win by 43 or More pts         +5500
3097     Ravens to win by 1-6 pts         +375
3098     Ravens to win by 7-12 pts         +650
3099     Ravens to win by 13-18 pts         +1100
3100     Ravens to win by 19-24 pts         +2000
3101     Ravens to win by 25-30 pts         +3500
3102     Ravens to win by 31-36 pts         +5000
3103     Ravens to win by 37-42 pts         +8000
3104     Ravens to win by 43 or More pts         +10000
3105     Tie         +6000
- Tyrone Black, Gambling911.com