Taylor Swift, Travis Kelce Betting Odds Include First Kiss, Breakup
Published on:
Sep/27/2023
Recording artist phenom Taylor Swift appeared at the Chiefs' game on Sunday to watch her beau Travis Kelce and that set off a firestorm on social media.  When all was said and done nobody really cared who was playing in this game.  Kansas City ended up winning 41-10 against the Chicago Bears.  The real winners here are the oddsmakers at BetOnline who can now offer an endless slate of Swift-Kelce betting odds.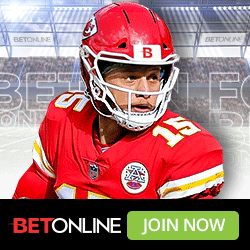 First kiss, breakup date and will Swift attend Super Bowl LVIII if the Chiefs are playing in it? 
The Chiefs tight end said on his podcast that it was an "exciting game" with Swift cheering for him from his suite.
Not everyone is thrilled with the relationship.  Those on the far right have already had enough.  Swift is not a fan of the former US President Donald Trump and she's a big advocate of the pro-choice movement.  Kelce, on the other hand, keeps his political views to himself.  These haters get to bet on a breakup before Valentine's Day as BetOnline has the two not together at -140 odds.
Fractional odds can be read as such: 4/1 means a $40 payout out on a $10 bet.  +300 means a $30 payout on a $10 bet.  -500 is the favorite and pays $10 on a $50 bet (a $10 profit).  You always get your bet refunded provided it's a winner, along with the profit.
What celebrity couple nickname with the Daily Mail use to describe Swift/Kelce?                    
Swelce              3/1
Taytray             4/1
Trift                  5/1
Tayce               6/1
Trayvis              6/1
Swiftis              8/1
Swivis               10/1
Taykel              10/1
When will Travis Kelce and Taylor Swift make first public kiss?             
After Oct. 31                 -500
On or Before Oct. 31     +300
Will Taylor Swift say Travis/Chiefs/Football in a song on next album?              
No                    -700
Yes                   +400
Will Taylor Swift appear as guest on New Heights this season?             
No                    -165
Yes                   +125
Will Travis Kelce and Taylor Swift still be dating Week 1 of 2024 season?                      
No                    -120
Yes                   -120
Will Travis Kelce and Taylor Swift still be dating by Valentine's Day 2024?                    
No                    -140
Yes                   +100
Will Taylor Swift attend Super Bowl LVIII if Chiefs?                   
No                    -500
Yes                   +300