Breaking News
Online casinos have become one of the most popular places for entertainment and leisure pastimes in the modern world.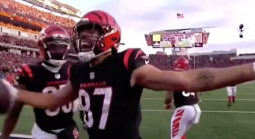 They have one of the best quarterbacks in the NFL, two of the top wide receivers and they played in this past season's Super Bowl, yet the Cincinnati Bengals are getting no love from the oddsmakers.  Their payout to win Super Bowl 57?  $2200 for every $100 bet.
This event took place in Red Rock, Texas, another example of how big poker has become in the Lone Star State.  The venues attract those from around the world, Bauer among them.