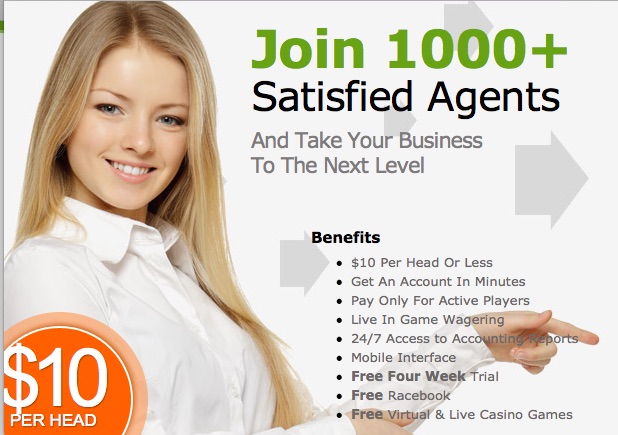 Benefits
    $7 or more Pay Per Head
    Instant Account Setup
    Pay Only For Active Players
    Live In Game Wagering
    24/7 Access to Accounting Reports
    Mobile Interface
    Free Four Week Trial
    Free Racebook
    Free Virtual & Live Casino Games

Starting at just $7 per customer (per head).  They only charge for active players.
"We take bets online or over the phone. Our online and toll-free options are both great choices and make it convenient for your clients to bet in the manner which is most comfortable to them. This flexibility means that even if your client's internet connection goes down, your client can still bet over the phone. We also provide a mobile interface so that your players can place bets while they are out and about. Betting from home is great, but being able to bet from anywhere is even better. Not everyone can be at home during the event they want to participate in, so now your players can bet from the workplace or from other environments as well.
"We handle all your accounting for you so you can spend more time focusing on finding clients and on running other elements of your business. It is all too easy to make accounting errors when trying to figure out what you owe and what your clients owe you. With our automatic calculations, you don't have to worry about it—it's all taken care of. This makes it easier to balance your budget and keep your business profitable, as well as maintain your reputation among your clientele. You have access to your accounting reports for every player 24/7.
"Our online bookmaking tool tools are hosted on a solid and reliable network. You and your clients will find it fast and you won't experience any downtime. This is extremely important in this field since events which your clients are betting on are going on in real-time, and everything needs to be working properly in order for you to receive bets when the time is right."
You have the ability to change lines and reduce or raise limits.