Where Can I Bet The Mayweather-Pacquiao Fight Online?
Published on:
Apr/25/2015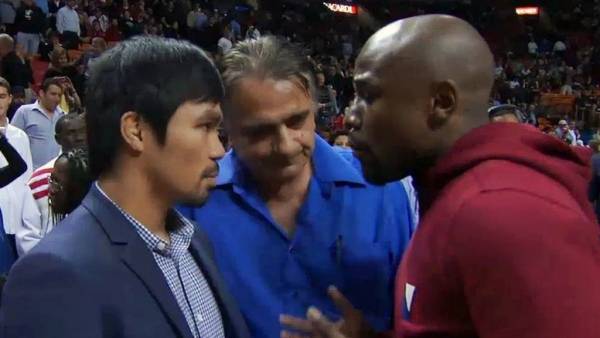 This is a common question many have been asking us at Gambling911.com, even those who have never placed a wager in their life: Where can I bet the Mayweather-Pacquiao fight online?
It's finally happening: Floyd Mayweather Jr. will take on Manny Pacquiao May 2 in what will be the biggest wagering day in history with the fight taking place the same day as the Kentucky Derby.
Every online sportsbook is offering betting on this fight.  Some feature more wagering options and props than others, however.
Our friends at AceSportsbook.com have a number of great Mayweather-Pacquiao fight odds and props (listed below).
If you are new to online sports betting, here is the run down:
How to Open an Account – Credit cards are widely accepted but, depending on your card issuing bank, not all are friendly towards gambling.  Inquire with the online sportsbook to learn of other methods offered for opening an account. Trouble making a deposit online? Call (800) 909-5193 for assistance from a friendly AceSportsbook.com representative. 
How to Read the Lines - +500 means you will win $500 for every $100 bet or $50 for every $10 bet.  +1000 means you will win $1000 for every $100 bet or $100 for every $10 you bet.  Mayweather is a -210 favorite.  In this scenario you would wager $21 to win $10 and get your $21 back only if he were to win the fight. 
Scroll Down For Lines and Props..
FLOYD MAYWEATHER JR VS MANNY PACQUIAO

Lines From:04-25-2015 10:41:32

 

Date

#

Team

M Line

Total

Spread

FLOYD MAYWEATHER JR VS MANNY PACQUIAO - May 03

UNIFIED WELTERWEIGHT TITLE BOUT - (12 ROUNDS)

@ MGM GRAND GARDEN - LAS VEGAS, NV

 

May 03

24601

M PACQUIAO

+170 

o11½-325 

 
 

11:59 PM

24602

F MAYWEATHER JR

-210 

u11½+250 

 
 
MAYWEATHER JR VS PACQUIAO - FIGHT OUTCOME

Lines From:04-25-2015 10:41:32

 

Cut Off

#

Description

Odds

MAYWEATHER JR VS PACQUIAO - FIGHT OUTCOME - Apr 26

Apr 26 - 10:00 PM

MAYWEATHER JR VS PACQUIAO - FIGHT OUTCOME

 
 

1101

MAYWEATHER JR TO WIN BY KO, TKO, OR DQ

+450 

 
 

1102

MAYWEATHER JR TO WIN BY DECISION

-140 

 
 

1103

PACQUIAO TO WIN BY KO, TKO, DQ

+450 

 
 

1104

PACQUIAO TO WIN BY DECISION

+300 

 
 

1105

DRAW

+1350 

 
MAYWEATHER JR VS PACQUIAO - FIGHT PROPS

Lines From:04-25-2015 10:41:32

 

Cut Off

#

Description

Odds

MAYWEATHER JR VS PACQUIAO - FIGHT PROPS - Apr 26

Apr 26 - 10:00 PM

MAYWEATHER JR VS PACQUIAO - GROUP BETTING

 
 

1111

MAYWEATHER JR TO WIN IN ROUNDS 1 - 3

+1750 

 
 

1112

MAYWEATHER JR TO WIN IN ROUNDS 4 - 6

+1150 

 
 

1113

MAYWEATHER JR TO WIN IN ROUNDS 7 - 9

+950 

 
 

1114

MAYWEATHER JR TO WIN IN ROUNDS 10 - 12

+950 

 
 

1115

MAYWEATHER JR TO WIN BY DECISION

-140 

 
 

1116

PACQUIAO TO WIN IN ROUNDS 1 - 3

+1750 

 
 

1117

PACQUIAO TO WIN IN ROUNDS 4 - 6

+1150 

 
 

1118

PACQUIAO TO WIN IN ROUNDS 7 - 9

+950 

 
 

1119

PACQUIAO TO WIN IN ROUNDS 10 - 12

+950 

 
 

1120

PACQUIAO TO WIN BY DECISION

+300 

 
 

1121

DRAW

+1350 

Apr 26 - 10:00 PM

MAYWEATHER JR VS PACQUIAO - ROUND BETTING

 
 

1125

MAYWEATHER JR TO WIN IN ROUND 1

+5000 

 
 

1126

MAYWEATHER JR TO WIN IN ROUND 2

+4500 

 
 

1127

MAYWEATHER JR TO WIN IN ROUND 3

+4500 

 
 

1128

MAYWEATHER JR TO WIN IN ROUND 4

+4000 

 
 

1129

MAYWEATHER JR TO WIN IN ROUND 5

+4000 

 
 

1130

MAYWEATHER JR TO WIN IN ROUND 6

+3500 

 
 

1131

MAYWEATHER JR TO WIN IN ROUND 7

+3500 

 
 

1132

MAYWEATHER JR TO WIN IN ROUND 8

+3000 

 
 

1133

MAYWEATHER JR TO WIN IN ROUND 9

+2500 

 
 

1134

MAYWEATHER JR TO WIN IN ROUND 10

+2500 

 
 

1135

MAYWEATHER JR TO WIN IN ROUND 11

+2500 

 
 

1136

MAYWEATHER JR TO WIN IN ROUND 12

+2500 

 
 

1137

MAYWEATHER JR TO WIN BY DECISION

-140 

 
 

1138

PACQUIAO TO WIN IN ROUND 1

+5000 

 
 

1139

PACQUIAO TO WIN IN ROUND 2

+4500 

 
 

1140

PACQUIAO TO WIN IN ROUND 3

+4500 

 
 

1141

PACQUIAO TO WIN IN ROUND 4

+4000 

 
 

1142

PACQUIAO TO WIN IN ROUND 5

+4000 

 
 

1143

PACQUIAO TO WIN IN ROUND 6

+3500 

 
 

1144

PACQUIAO TO WIN IN ROUND 7

+3500 

 
 

1145

PACQUIAO TO WIN IN ROUND 8

+3000 

 
 

1146

PACQUIAO TO WIN IN ROUND 9

+2500 

 
 

1147

PACQUIAO TO WIN IN ROUND 10

+2500 

 
 

1148

PACQUIAO TO WIN IN ROUND 11

+2500 

 
 

1149

PACQUIAO TO WIN IN ROUND 12

+2500 

 
 

1150

PACQUIAO TO WIN BY DECISION

+300 

 
 

1151

DRAW

+1350 
- Don Shapiro, Gambling911.com