Published on:
Feb/22/2012
Carrie Stroup here and I have your UFC 144 betting odds courtesy of Sportsbook.com, which is offering up to $250 in FREE CASH based on your initial deposit. 
Rampage Jackson (32-9-0) vs. Ryan Bader (14-2-0)
Sportsbook.com Line: Jackson -250, Bader +190
Former light heavyweight champion Rampage Jackson takes the Octagon to battle Ryan Bader as a part of UFC 144 taking place Saturday in Japan.
Jackson is coming off a loss to Jon Jones in which he failed to reclaim the light heavyweight belt, which he had once won from Chuck Liddell in 2007. But if Jackson has proven anything, it is that he beats opponents who he should beat, and Bader is one of those. Bader has lost two of his past three bouts, beating Jason Brilz and falling to Tito Ortiz and Jon Jones in the first and second rounds, respectively. While Jackson fell to Jones in his most recent bout, he gave him a far more competitive fight before losing on a submission in the fourth round. Bader relies heavily on takedowns (56%) but his skills will not be strong enough to overcome Jackson's usually elite takedown defense (82% takedown avoidance rate). Jackson is too strong a striker and too effective of a wrestler to let this match be close.
Scroll Down for More...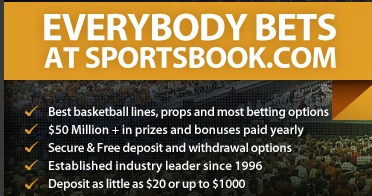 Although Jackson lost to Jones in his most recent fight, he beat two quality opponents prior to that. He defeated Matt Hamill in the title eliminator in the fight before, while winning a narrow decision over Lyoto Machida prior to that. Bader has no wins of that high quality on his résumé. The bread-and-butter of Jackson's attack are his powerful strikes (77%), but his ability to slam an opponent is what makes him elite. Takedowns form the other 23% of his attack, but they are greater in magnitude than in quantity. Look for him to slam Bader before the final bell in this fight.  
Bader also relies on takedowns as his method for winning fights. The winner of Ultimate Fighter 8, Bader is a former Division I wrestler who has shown he can maneuver his opponents to the ground with his tactics. But unfortunately he matches up against an opponent who is a talented defender against takedowns. Bader's two recent losses to opponents of lower quality than Jackson do not bode well for him in pulling off the upset here.
Frankie Edgar (14-1-1) vs. Benson Henderson (15-2-0)
Sportsbook.com Line: Edgar -135, Henderson +105
Frankie Edgar lays his lightweight belt on the line as he takes on Benson Henderson for the first UFC fight in Japan since 2000.
Despite holding three inches over Edgar, Henderson is a slight underdog in this fight. The 28-year-old is coming off three consecutive wins, most notably the title eliminator fight against Clay Guida. But he has yet to truly assert himself against these top foes with decision victories in all three of those fights. Edgar won the lightweight belt from BJ Penn at UFC 112, and defended it against him just four months later. He then retained his belt with a draw against Gray Maynard, who was awarded another chance, but fell as Edgar KO'ed him in the fourth round. Both of these fighters are among the best wrestlers in this class, but Edgar's versatility and ability to be a strong striker make him the play in this one. Although his ground game is elite as a takedown artist, Edgar also fights superbly from his feet; 64% of his successful strikes come standing. Edgar is a stronger and better-rounded fighter than Henderson – it is surprising that he is running off as such a slight favorite.
With the draw against Maynard, Edgar has won six of his past seven fights, without a loss in any of them. Four of those wins have come as decisions, but he won via submission against Matt Veach before beating Penn for the first time, and then later KO'ed Maynard. Edgar was a Division I wrestler in college which builds the foundation for his attack style, but what defines him is his athleticism and ability to display his best performance for five full rounds. At 30 years old, he is not yet past his prime and has at least one more title win in him.
Henderson also wrestled in college where he built the base of his takedown-oriented style. At 51% takedowns, he is slightly more focused on that than his opponent (47%). Henderson has shown        he can win fights via submission, with eight of his career victories coming that way, but it is a bit of a concern that his past three fights have come via decision. It will be tough to outlast and consistently outfight somebody as well-rounded and talented as Edgar, so he will need to bring his best wrestling game to takedown Edgar before the final bell in this one.
- Carrie Stroup, Gambling911.com Senior Reporter