Rashad Evans had more bets Saturday night than the most wagered on NFL team, The New York Jets.
Submitted by Tyrone Black on, Sep/07/2008
Because Rashad Evans and Matt Hamill were both worthy underdogs with handsome payouts of just over $200 for every $100 bet, UFC 88 proved a worthwhile betting event.
Submitted by Tyrone Black on, Sep/06/2008
Breaking News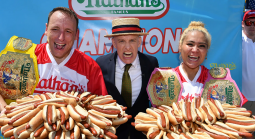 You can bet the Nathan's Hot Dog Eating Contest online at BetOnline
If you showed up at the Meadowlands Race Track Friday evening, chances are you had to participate in a Covid-19 screening that could best be described as an "epic fail".
Online bookies have had a massive surge in popularity in the last 5 years.