Odds of Floyd Mayweather Winning by Decision the -135 Favorite
Published on:
Apr/26/2015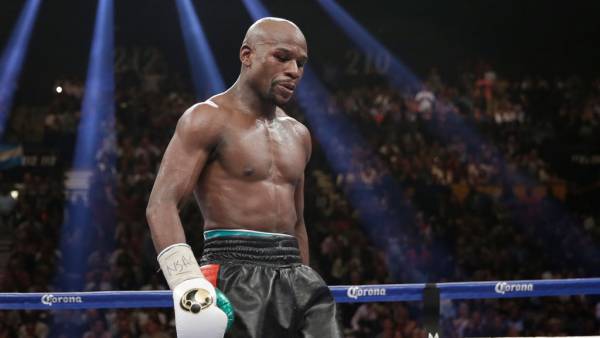 Five division world champion fighter Floyd Mayweather had odds of winning by decision the favorite at -135 for his much anticipated May 2 fight against Manny Pacquiao. 
One would have to wager $135 to win $100 with the $135 bet refunded should Mayweather end up winning by decision. 
The fight is expected to be the most wagered on boxing match ever when all is said and done.
As noted by the Associated Press, Mayweather has only one knockout in the last eight years.  Pacquiao hasn't stopped anyone in nearly six. And there's a far better chance of them both fighting to the final bell of the 12th round than any other outcome.
"Floyd Mayweather is going to try and take Manny Pacquiao's head off. You can count on that happening," Mayweather's promoter, Leonard Ellerbe said. "He'll do it in a manner where he follows a game plan, but Floyd Mayweather is looking to finish him off. I strongly believe he will do just that."
"We'll keep him guessing when we're coming and we're not coming," Pacquiao trainer Freddie Roach said. "Floyd will be overwhelmed by the foot speed and the hand speed of Manny Pacquiao."
Sunday, Apr 26, 2015 02:34:41 PM (Eastern)
 

Rot.

Selection

Odds

 

Saturday, May 02, 2015

Manny Pacquiao vs Floyd Mayweather Jr

Group Round Odds - Pacquiao vs Mayweather

11:59 PM

4611

Pacquiao wins in Rd 1-3

 

+2100

 

4612

Pacquiao wins in Rd 4-6

 

+1700

 

4613

Pacquiao wins in Rd 7-9

 

+1500

 

4614

Pacquiao wins in Rd 10-12

 

+1700

 

4615

Pacquiao wins by decision

 

+400

 

4616

Mayweather wins in Rd 1-3

 

+2400

 

4617

Mayweather wins in Rd 4-6

 

+2000

 

4618

Mayweather wins in Rd 7-9

 

+1800

 

4619

Mayweather wins in Rd 10-12

 

+2000

 

4620

Mayweather wins by decision

 

-135

 

4621

Draw

 

+1700

 

Manny Pacquiao vs Floyd Mayweather Jr

Method of Victory - Pacquiao vs Mayweather

11:59 PM

4601

Pacquiao by TKO/KO/DQ

 

+550

 

4602

Pacquiao by decision

 

+425

 

4603

Mayweather by TKO/KO/DQ

 

+600

 

4604

Mayweather by decision

 

-135

 

4605

Draw

 

+1600

 

Manny Pacquiao vs Floyd Mayweather Jr

Round Betting - Pacquiao vs Mayweather

11:59 PM

4631

Pacquiao wins in Rd 1

 

+5400

 

4632

Pacquiao wins in Rd 2

 

+5000

 

4633

Pacquiao wins in Rd 3

 

+5000

 

4634

Pacquiao wins in Rd 4

 

+5000

 

4635

Pacquiao wins in Rd 5

 

+4500

 

4636

Pacquiao wins in Rd 6

 

+4500

 

4637

Pacquiao wins in Rd 7

 

+4500

 

4638

Pacquiao wins in Rd 8

 

+3200

 

4639

Pacquiao wins in Rd 9

 

+4000

 

4640

Pacquiao wins in Rd 10

 

+3500

 

4641

Pacquiao wins in Rd 11

 

+4000

 

4642

Pacquiao wins in Rd 12

 

+5000

 

4643

Pacquiao wins by decision

 

+400

 

4644

Mayweather wins in Rd 1

 

+6500

 

4645

Mayweather wins in Rd 2

 

+6500

 

4646

Mayweather wins in Rd 3

 

+6000

 

4647

Mayweather wins in Rd 4

 

+6000

 

4648

Mayweather wins in Rd 5

 

+5500

 

4649

Mayweather wins in Rd 6

 

+5500

 

4650

Mayweather wins in Rd 7

 

+5000

 

4651

Mayweather wins in Rd 8

 

+5000

 

4652

Mayweather wins in Rd 9

 

+4500

 

4653

Mayweather wins in Rd 10

 

+4500

 

4654

Mayweather wins in Rd 11

 

+4500

 

4655

Mayweather wins in Rd 12

 

+5500

 

4656

Mayweather wins by decision

 

-135

 

4657

Draw

 

+1700

 
- Don Shapiro, Gambling911.com