In the past, Gambling911.com has profiled the Nashville bookie as one dedicated mostly to football (the Vols in College and Titans in the NFL).

While it's true the Nashville area has always taken great pride in their NHL team, 2017 was the first year ever that the Predators had made it to the Stanley Cup.
In the late 1990's when this hockey team was in its infancy, the arena would typically be half-filled for Predators games.  The team was almost sent packing to Canada in 2007.
Today, as the Predators head to the Stanley Cup, Nashville is abuzz with hockey fans (and not the one's wearing Red Wings shirts either like in years past). 
Today you will find youth hockey leagues, high school hockey and adult leagues throughout Middle Tennessee.
And with this newfound love for hockey comes a demand for bookies in a region where they were once nonexistent during the months of April through mid-August.
As it turns out, June might very well be the busiest month of 2017 for local Nashville bookies.
Alas, this could very well be a time for said bookies to see a rapid decline in their business.
"My bookie had his phone turned off," relayed Bubba Jones (last name changed to conceal his true identity), a resident living outside of Murfreesboro, due south of Nashville.  "Two of my other buddies, same situation.  Another, his bookie is living out of state for two months."
That's three buddies who can't place bets with their regular bookies and five others who have finally caught the sports betting bug, now in search for a place to wager.
Bubba found a solution.
"I brought my little group over to one of them Pay Per Head sites and set up their own accounts online," he said.  "The only thing I have to do is pay a small fee for each of them and only worry about paying on wins and collecting on losses.  The Pay Per Head does everything else."
Scroll Down For More...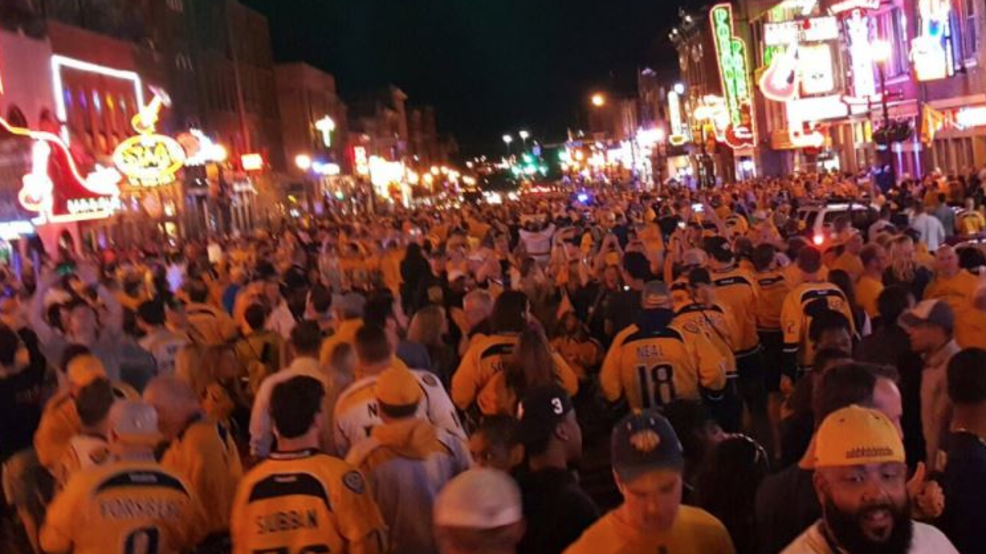 This is Nashville....Predators fans take over the city streets
Since the two buddies who already gambled with a bookie are described by Bubba as "total degenerates", these are now his customers, presumably for life.
Both of them immediately started dabbling in the in-play live wagering offered at this particular Pay Per Head (which just happens to be Gambling911.com-endorsed AcePerHead.com).  So far, Bubba admits he is way up profitwise, thanks in no small part to the live in-play feature that he brags is like "crack cocaine" for hardcore sports bettors.
And Bubba hasn't been satisfied with just his eight players.  He eventually wound up gaining entry into a nearby golf club with a member friend who doesn't gamble but spent the entire day networking and amassing a client base that ultimately turned into 14, all but one a Predators fan.
"One guy I met had family members and friends, same situation, their bookie was nowhere to be found, and a few others just wanted to get in on the Stanley Cup action."
One of Bubba's buddies, we will call him Joe as he didn't even want his real first name used for this piece, advised Gambling911.com that downtown Nashville is awash with Predators fans.
He's already gotten Bubba to head on over to a watch party this week where he could easily reel in another dozen or so clients, conservatively.
"I've been to big sports cities like Chicago and New York," Joe tells us.  "I have never seen anything like what is going on in Nashville right now."
Joe has spoken to a few fellow sports bettors, some of whom are fortunate to have actually located their regular bookie, or maybe unfortunate, depending on how you look at it.
"The guys they deal with don't even offer a website and have no clue what live in-play wagering even is," Joe said.
The great news for Bubba and others looking to take advantage of a solid Pay Per Head during the Stanley Cup: AcePerHead.com offers their software for FREE for up to 6 weeks ahead of that other sport, football.
- Ean Lamb, Gambling911.com