NASCAR Betting: NRA 500 Odds
Published on:
Apr/12/2013
Carrie Stroup here with your NRA 500 betting odds courtesy of Sportsbook.com where you can claim your FREE $100 BET here.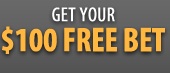 Texas Motor Speedway - Fort Worth, TX
The NASCAR field heads to Fort Worth for Saturday night's race at Texas Motor Speedway. This 1.5-mile intermediate track was built in 1996 as a quad-oval with 24-degree banking on the turns. The straights are just five degrees of banking and measure at 2,250 feet (or 0.43 miles) and 1,330 feet (0.25 miles).
This track has had a different winner in each of the past five races and eight of the past 10 starts in Fort Worth. Denny Hamlin and Carl Edwards are the only two-time winners during this stretch. Jimmie Johnson is the defending champion of this race, as he won from the pole at this track last fall. Johnson also won last week's race at Martinsville.
Drivers to Watch
Matt Kenseth (12/1) - When it comes to 1.5-mile tracks, look no further than Kenseth, who has won two of the past four such races (Kansas '12, Las Vegas '13) while placing fourth in the last race at Texas Motor Speedway. That marked his fifth straight top-5 finish at Texas, as he won in the spring of 2011, then placed fourth in the fall and fifth in the spring of 2012. Kenseth, who also won at this track in 2002, has finished worse than ninth place in just two of the past 15 starts in Texas, banging out four runner-ups during this span.
Kasey Kahne (12/1) - Another driver with identical odds and a great chance to win on Saturday is Kahne. Before a disappointing 25th-place finish in last fall's Texas race, Kahne had placed 3rd and 7th on this track. This is in addition to a win in 2006 and runner-up in 2004, his first career start in Fort Worth. Kahne also has a pair of top-4 finishes in his past four races on 1.5-mile tracks, finishing fourth in Kansas last year and was runner-up to Kenseth in Las Vegas earlier this season. Kahne has an average finish of 4.0 over his past four races this season (2nd, 1st, 9th and 4th).
Kevin Harvick (18/1) - This is the best value pick on the board, as Harvick placed ninth in both Texas races last season, lowering his average finish at this track to 11.5 since 2006, where he's knocked out nine top-10's in 14 starts. He's also been among the top-11 drivers in each of the past 1.5-mile races, and has been racing strong since his season-opening crash at Daytona. In Harvick's past five starts, he's finished no worse than 14th despite starting better than 14th just twice during this span.
Greg Biffle (7/1) - Of the four drivers with odds less than 10-to-1, Biffle is the best pick of the foursome. Not only is he the defending champion of this spring race, but he's ripped off NINE straight top-10's at this track, six of those which were top-5's. He also placed 5th at Homestead in the last 1.5-mile track of the 2012 season before struggling in Las Vegas earlier this year and placing 17th. But since the disappointment in Vegas, Biffle finished 11th in Bristol, 6th in Fontana and 9th at Martinsville last week.
Joey Logano (30/1) - If you're looking for a darkhorse, take a flier on Logano. He placed 11th in last fall's race at this track, and then finished 14th and 12th in the most recent two 1.5-mile tracks. He's also been giving himself better chances to win with three straight top-10 starting positions, including two races ago when he began sixth and finished third at Fontana. Logano's odds are long enough here to warrant dropping a one-unit wager on in hopes of a huge payoff.
- Carrie Stroup, Gambling911.com Senior Reporter