Kentucky Derby 2013 Weather Forecast: 90 Percent Chance of Rain and Mud
Published on:
May/03/2013
The Kentucky Derby 2013 weather forecast is not looking good with forecasters calling for a 90 percent chance of rain to occur by 3 pm local time.  Steady rain should continue right up to post time.  Beyond that point, showers are anticipated.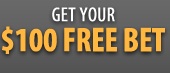 This won't be a situation where passing thunderstorms hit the area followed by some drying as in recent years.  A system over the region will result in more steady rain.  This could turn out to be a soaker, at least during portions of the afternoon. 
Goldencents, Mylute, Revolutionary and Palace Malice are all horses that should be able to handle the adverse track conditions.
Will Take Charge is one Derby entry that is less likely to fare well on a sloppy track.
Here were your morning odds for the 2013 Kentucky Derby below this video featuring Yours Truly.
Revolutionary
Verrazano
Goldencents
Normandy Invasion
Itsmyluckyday
Overanalyze
Mylute
Javas War
Vyjack
Will Take Charge
Oxbow
Lines Of Battle
Palace Malice
Frac Daddy
Golden Soul
Charming Kitten
Falling Sky
Giant Finish
- Carrie Stroup, Gambling911.com Senior Reporter