Bettors drooling over Thanksgiving Classic NFL feast
Published on:
Nov/22/2010
Along with Turkey, pumpkin pie and parades, NFL bettors have the annual tradition of a trio of NFL games – commonly called the Thanksgiving Classic – to look forward to this Thursday.
And as has been the case since 1934, the opening game on Thanksgiving Day is hosted by the Detroit Lions, who this year will welcome Tom Brady and the New England Patriots to Ford Field (12:30 pm ET, CBS).
The teams enter this game with polar-opposite straight-up records, the Patriots at 8-2 SU and the Lions 2-8 SU. But the Lions have been in almost every game, as evidenced by their 7-3 ATS record. The Pats are 5-4-1 ATS.
NFL Week 12 Odds at betED.com have New England as a 7.5-point favorite and the over/under total at 51. New England is 2-1 SU and 1-2 ATS in the past three meetings, two of which have gone over the total.
The second matchup Thursday has the resurgent New Orleans Saints heading into Dallas to face the Cowboys (4:15 pm ET, FOX).
New Orleans is favored by 3.5 points and the total is 50 in NFL Odds. After a rocky start, the defending Super Bowl champs are 7-3 SU and 4-6 ATS. The Cowboys are in the midst of one of their worst seasons on record but have won two straight and are now 3-7 SU and ATS.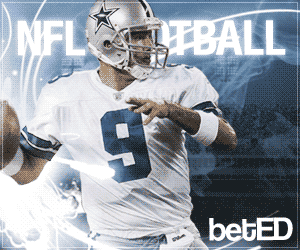 New Orleans has dominated head-to-head, going 5-1 SU and ATS in the past six meetings.The last game of the Thanksgiving NFL feast has Cincinnati Bengals taking on the New York Jets at Meadowlands Stadium (8:20 pm ET, NFL Network).
New York is a 9-point favorite and the over/under total is 44 in NFL Betting at betED.com. The Jets are 6-1 SU and 5-2 ATS in the past seven head-to-head meetings. The teams last squared off in a Wild Card game last January, won 24-14 by the Jets.
Advertisement: