Gambling911.com has your Major League Baseball betting picks and lines for Thursday's games.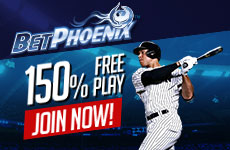 Padres @ Braves –
The OVER is 11-2-1 in San Diego's last 14 overall and 8-2-1 in Atlanta's last 11 overall.  Six of the last ten in this series have gone OVER.  Seven of the last ten have totaled 7 or greater. 
San Diego's Andrew Cashner is just 2-8 on the season with a 4.06 ERA while Atlanta's Julio Teheran is 4-2 with a .487 ERA.  
Cashner gave up seven runs on eight hits and five walks, striking out two over 5.2 innings, but did not factor in the decision as the Padres rallied late to beat the Reds on Saturday.  He has now given up eight-plus hits in four of his last five outings.
Teheran delivered a quality start Sunday against the Giants, allowing three runs on four hits and four walks over six innings.
The OVER is 10-1 in Teheran's last 11 starts overall.
We have a feeling this one will land on 7.
Mariners @ Indians –
PITCHING MATCHUP: Mariners LH J.A. Happ (3-1, 3.31 ERA) vs. Indians RH Shaun Marcum (2-1, 5.19)
Happ hasn't recorded a win since May 9 so expect him to bring his A-Game to this one.  He hasn't given up more than three runs in five of his last six games.  Happ is 2-0 with a 1.89 ERA in four career appearances (three starts) against Cleveland.
Marcum is 2-2 with a 3.72 ERA in nine career appearances (six starts) against Seattle. Marcum has only given up more than three runs in one of five games he has pitched in this season.
We do like the UNDER 8.5 here.
NATIONAL LEAGUE

06/11/2015

901

SAN DIEGO PADRES

A CASHNER -R

-104

o7-125

+1½-230

09:13:00

902

ATLANTA BRAVES

J TEHERAN -R

-106

u7+105

-1½+190

06/11/2015

903

COLORADO ROCKIES

C RUSIN -L

+134

o9EV

+1½-165

16:13:00

904

MIAMI MARLINS

D PHELPS -R

-146

u9-120

-1½+145

06/11/2015

905

SAN FRANCISCO GIANTS

T LINCECUM -R

+107

o7½-105

+1½-216

16:13:00

906

NEW YORK METS

J NIESE -L

-117

u7½-115

-1½+176

06/11/2015

907

CINCINNATI REDS

M LORENZEN -R

+131

o8EV

+1½-171

17:08:00

908

CHICAGO CUBS

T WADA -L

-142

u8-120

-1½+151

06/11/2015

909

WASHINGTON NATIONALS

T ROARK -R

-117

o8½-115

-1½+146

17:13:00

910

MILWAUKEE BREWERS

M GARZA -R

+107

u8½-105

+1½-166

AMERICAN LEAGUE

06/11/2015

911

SEATTLE MARINERS

J HAPP -L

-105

o8½-125

+1½-225

09:13:00

912

CLEVELAND INDIANS

S MARCUM -R

-105

u8½+105

-1½+185

06/11/2015

913

TEXAS RANGERS

A GONZALEZ -R

+154

o7½-110

+1½-150

12:38:00

914

OAKLAND ATHLETICS

S KAZMIR -L

-172

u7½-110

-1½+130

06/11/2015

915

BOSTON RED SOX

W MILEY -L

-102

o8½-120

+1½-208

16:08:00

916

BALTIMORE ORIOLES

C TILLMAN -R

-108

u8½EV

-1½+173

06/11/2015

917

LOS ANGELES ANGELS

G RICHARDS -R

-108

o7-115

-1½+158

16:13:00

918

TAMPA BAY RAYS

A COLOME -R

-102

u7-105

+1½-178

06/11/2015

941

AWAY RUNS

 

-105

 
 

09:10:00

942

HOME RUNS

 

-115

 
 

06/11/2015

943

OVER RUNS

 
 

o74½-110

 

09:10:00

944

UNDER RUNS

 
 

u74½-110

 

- Dan Shapiro, Gambling911.com