Broncos Russell Wilson Benched Odds
Published on:
Sep/26/2023
Despite a decent game by his current standards last week, Russell Wilson is now the favorite to be the first quarterback benched this season.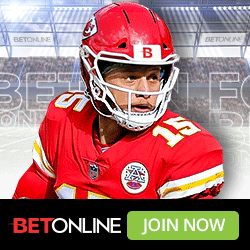 Ryan Tannehill makes sense, too, but there's not a lot of confidence in the guy behind him. Justin Fields should be benched, but the Bears have to see what they have in him before selecting a QB early in next year's draft.
Speaking of QBs, we now have two starters who've been bit by the injury bug. Aaron Rodgers won't be back, and it looks like Derek Carr is going to be out for at least a week but likely longer.
With that said, it's always interesting to see how much guys like Rodgers and Carr impact oddsmaking. Quarterbacks are the most valuable, and there are a few position players and even coaches, who can also move the odds. There's also a Top 5 list for the biggest dropoff in relation to the line from the starting quarterback to the backup.
Finally, while the Chargers somehow escaped with a victory in Minnesota, the hot seat under Brandon Staley didn't cool off too much. The latest head coach firing odds show Staley with the fourth-lowest odds to be canned first, but check out what former Charger Shawne Merriman had to say about the coach's job security and more below.
NFL odds are subject to change and will be updated in real-time on these pages:

First QB Benched                     
Russell Wilson               4/1
Ryan Tannehill              5/1
Justin Fields                  6/1
Sam Howell                  7/1
Desmond Ridder           9/1
Baker Mayfield             12/1
Jimmy Garoppolo          12/1
Mac Jones                    12/1
Kenny Pickett                14/1
Kirk Cousins                  14/1
Anthony Richardson      20/1
Bryce Young                  20/1
CJ Stroud                      20/1
Dak Prescott                 25/1
Geno Smith                   33/1
Daniel Jones                 50/1
Derek Carr                    50/1
Matthew Stafford         50/1
Brock Purdy                  66/1
Jordan Love                  100/1
Trevor Lawrence           100/1
First Coach Fired                      
Josh McDaniels             2/1
Matt Eberflus                +225
Ron Rivera                    3/1
Kevin O'Connell            10/1
Brandon Staley             11/1
Robert Saleh                 12/1
Sean Payton                  25/1
Todd Bowles                 25/1
Mike Vrabel                  28/1
Dennis Allen                 33/1
Mike McCarthy             33/1
Frank Reich                   50/1
Kevin Stefanski             50/1
Mike Tomlin                 75/1
Pete Carroll                  75/1
Arthur Smith                 100/1
Bill Belichick                  100/1
Brian Daboll                  100/1
Doug Pederson             100/1
Jonathan Gannon          100/1
Matt Lafleur                 100/1
Nick Sirianni                  100/1
Sean McDermott           100/1
Sean McVay                  100/1
Shane Steichen             100/1
Zac Taylor                     100/1
DeMeco Ryans              150/1
John Harbaugh              150/1
Dan Campbell               200/1
Mike McDaniel              500/1
Andy Reid                     1000/1
Kyle Shanahan              1000/1
PLAYER VALUES
Top 10 QBs (QBs not listed are worth 4 points or less to a spread)
Patrick Mahomes 7.5
Jalen Hurts 6.5
Josh Allen 6.5
Joe Burrow 6.5
Aaron Rodgers 6.5
Justin Herbert 5.5
Trevor Lawrence 5
Tua Tagovailoa 5
Dak Prescott 4.5
Deshaun Watson 4.5
Top 5 Biggest Value Differences Between QB Starter & Backup
1. Chiefs
2. Browns
3. Chargers
4. Bengals
5. Bills
Top 5 Offensive Non-QBs
Christian McCaffrey 3
Derrick Henry 2.5
Travis Kelce 2.5
Tyreek Hill 2.5
Justin Jefferson 2
Defense
Micah Parsons 2
TJ Watt 2
Nick Bosa 1.5
Myles Garrett 1.5
Aaron Donald 1
Coaches
Bill Belichick 2.5
Andy Reid 2.5
Pete Carroll 1.5
John Harbaugh 1.5
Mike Tomlin 1
Shawn Merriman Talks Brandon Staley Favorite to be First Head Coach Fired and More
BOL: Brandon Staley is the favorite to be the first head coach fired (2/1 odds). A talented Chargers team that continually blows leads...should Staley be fired now and if not, when do you pull the plug?
Merriman: With the roster the Chargers have, if nothing changes 100% he will be fired. As a defensive minded coach to allow 30+ points per game doesn't look great on your resume. With Justin Herbert and the offense doing its job, the defense should be going in confidently knowing they'll be able to do their job and win those games.
BOL: Where do you rank Justin Herbert in terms of league QBs? Is he Top 5? Top 3? And behind who?
Merriman: Justin Herbert is definitely a top 5 QB without a doubt. I would personally rank Mahomes, Burrow, Allen then Herbert as the top 4 QBs in the NFL right now.
BOL: Has Micah Parsons supplanted guys like Aaron Donald and TJ Watt as the league's best defensive player, and can he be the first defensive player since LT to win MVP?
Merriman: Micah Parsons is the closest thing we have seen to LT in the game. If there was a defensive player to win MVP this season, it would definitely be him.