Oh The Irony: Trump's Celebrity Apprentice Pre-empted by Obama
Published on:
May/02/2011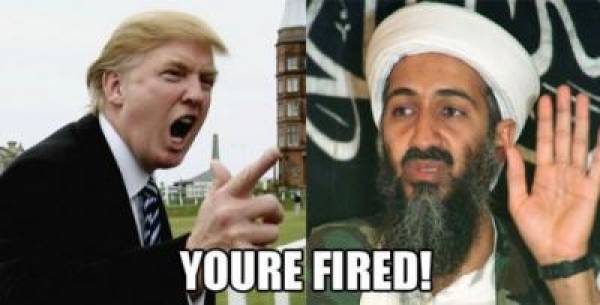 The announcement of Osama Bin Laden's death at the hands of US special forces could not have come at a more ironic time.
Major networks cut in to the news shortly after 10:40 pm ET just as Donald Trump's Celebrity Apprentice episode was to reveal the next firing (elimination results).  Trump, as everyone knows, has ruled the political stage in recent weeks with demands for US President Barack Obama to show his long born birth certificate.  Many have speculated that Trump is using the political arena to help boost ratings for his television empire.
Shortly after NBC News broke into the program, searches started flowing in to the Gambling911.com with requests for "Who was booted off of Celebrity Apprentice" Sunday night.
"Gambling911.com is pretty entrenched in search when it comes to Celebrity Apprentice due to poker pro Annie Duke's appearance on the show two years ago and our extensive coverage right up to the final," noted Payton O'Brien, Senior Editor of Gambling911.
"This is a night when reality trumped reality TV and Donald Trump got trumped by Pres. Obama and news that Osama Bin Laden is dead," noted Rodney Ho of the Atlanta Journal-Constitution. 
But Trump certainly didn't seem bothered by the interruption.  He was quick to congratulate Obama and the US armed forces on a job well done.
Speaking to ABC News he said:  "I want to personally congratulate President Obama and the men and women of the Armed Forces for a job well done.
"I am so proud to see Americans standing shoulder to shoulder, waving the American flag in celebration of this great victory," he added. "We should spend the next several days not debating party politics, but in remembrance of those who lost their lives on 9/11 and those currently fighting for our freedom. God Bless America!"
Thanks to the West Coast airing following a three hour time difference, we learned that Playboy Playmate Hope Dworacyzk had been fired by Trump.
- Gilbert Horowitz, Gambling911.com
Follow breaking headlines around the clock at Gambling911.com Twitter Here