Kent Lundmark Wins 2010 EPT Barcelona
Published on:
Nov/27/2010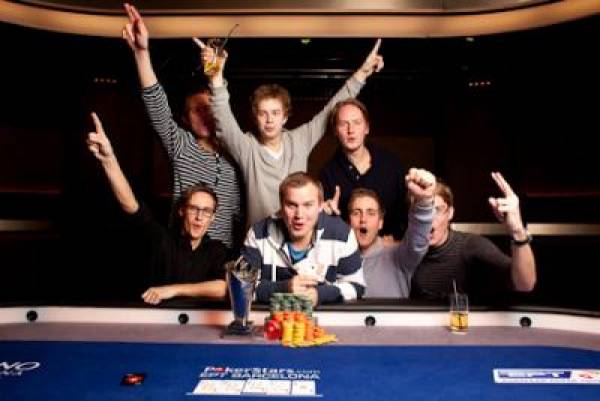 A great first act, a slow, more reflective act two, followed by a dynamite finale. The main character to this televised drama? A quiet, unassuming Swede named Kent Lundmark, with a knack of picking his moments and who can now call himself a European Poker Tour champion.
Lundmark, 22, from Stockholm, dispatched Jesus Cortes Lizano heads-up after what at one point had looked a likely walkover, a choreographed ball staged to make Lundmark look invincible. Kent Lundmark, winner of EPT Barcelona.
In so doing, the Swede takes home €825,000.  Prior to entering the 2010 EPT Barcelona, Lundmark had only won $91,556 in live tournament play.
Here were your top 10 finishes and payouts at this year's EPT Barcelona Poker Tournament:
1 Kent Lundmark, Sweden, €825,000
2 Jesus Cortes Lizano, Spain, PokerStars player, €525,000
3 Konstantin Puchkov, Russia, €300,000
4 - Shander De Vries, Holland, PokerStars qualifier, €222,000
5 - Giuseppe Pantaleo, Germany, PokerStars qualifier, €170,000
6 - Thor Stang, Norway, €130,000
7 - Georgios Skotadis, Greece, PokerStars qualifier, €90,000
8 - Francesco Notaro, Italy, €70,000
9 - Candido Gonçalves, France, €50,000
10 - Luis Rufas, Spain, €50,000
- Ace King, Gambling911.com