The great thing about poker is that there's always a possibility that you can come from behind to win, even if you're down to your last chip. And there have certainly been quite a few spectacular poker comebacks over the years in both land-based casinos and online.
A well-known poker phrase is "a chip and a chair," and that refers to what is undoubtedly the most notable poker comeback of all time. This honor is reserved for the legendary Jack Straus.
1. Jack Straus
Sadly no longer with us, the late great Jack "Treetop" Straus (so-called as he was six feet six inches tall) was one of the great players of the 1970s and early 80s. He finished fourth place in the 1972 WSOP Main Event and third the following year. But it was the 1982 competition for which he will always be remembered.
The story goes that Jack pushed all of his remaining chips into the pot on the second day of the tournament, got called and lost. But on rising from the table, he found he had one chip (apparently a $500 chip) left under a napkin. He then used this chip to double up several times and went on to win the 1982 WSOP Main Event, becoming one of a very small group of players to have been at the final WSOP table on three separate occasions. Treetop died in 1988 aged 58 whilst doing the thing he loved: playing high stakes poker at the Bicycle Casino in Los Angeles.
Pictured Top - Jack Straus at the 1974 WSOP: (photo credit: CC-BY-3.0, CryptoDerk, UNLV)
2. Olivier Busquet
One of the greatest World Poker Tour (WPT) comebacks ever occurred in September 2009, at the Borgata Poker Open in Atlantic City, New Jersey. The eventual winner was New York's Olivier Busquet, a player known for his aggressive style of play.
Busquet was faced up against the largest field in WPT history and appeared to be set to win the event as the final session started. But things went gradually against him as Jeremy Brown enjoyed an incredible run, taking down pot after pot as players left the table. In the end, it was down to Busquet and Brown, but it was surely only a formality as Olivier was down by a 20-to-1 chip disadvantage. He gradually came back into it, though, and went on to win against all the odds, pocketing $925,514 in a comeback described by reporters as "something that had to be seen to be believed."
3. David Chui
Chinese American Vegas-based professional poker player David Chui made one of the biggest comebacks n poker tournament history when he won his first WPT title – beating three-time champion WPT Gus Hansen in 2008 at the Bellagio in Las Vegas.
At one point in heads-up play, Chui trailed by over $18 million in chips, but clawed his way back with some aggressive all-or-nothing play to claim first place and a prize of $3,389,140.
4. Greg Merson
Greg Merson secured his place in poker history by winning the 2012 WSOP Main Event, but at one point, it looked like he was on the quick road to elimination. Merson was down to his last 50,000 in chips two days before the final table, but he battled his way back into competition. An online poker player with an expertise in short-handed play, Merson went on to land the bracelet and first prize of $8.53 million after beating Jesse Sylvia heads-up.
5. Mike McDermott
Mike McDermott was a fictional character in the classic poker movie "Rounders", played by Matt Damon. In the film McDermott manages to grind his way back from next to nothing to get a match with the main bad guy "Teddy KGB" (ably played by John Malkovich). As you would expect, the bad guy wins but is goaded into another game which is eventually won by McDermott, seemingly against all odds.
Far-fetched? Perhaps. It's often said that fact is stranger than fiction and the real-life stories listed here portray comebacks far greater than the one portrayed in "Rounders."
6. Stu Ungar
American Stu Ungar is widely considered to be one of the best, if not the best, poker players of all time.
He remains one of just two people who have won the World Series of Poker Main Event three times and the only player ever to win Amarillo Slim's Super Bowl of Poker on three separate occasions.
Ungar became a heavy cocaine user in 1979, but continued to ply his trade. By 1997, he was deeply indebted and suffering from his years of drug abuse. Still, he managed to secure the $10k buy-in to the WSOP Main Event from friend and fellow player Billy Baxter literally moments before it began. During the first day's play, he was so exhausted that he fell asleep at one point, but he gamely carried on, with ever-increasing success. By the final day, he was dominating the event and went on to win his third WSOP Main Event title.
Sadly, Ungar died the following year of a heart condition exacerbated by years of drug use and, despite having won an estimated $30m during his poker career, he died penniless.

Stu Ungar (photo credit: CC-BY-3.0, Delfort, LasVegasVegas.com)
7. Phil Ivey and Patrik Antonius
In 2009, unknown online poker professional Viktor "Isildur1" Blom played 9 tables at once, three each against well-known players Phil Ivey, Patrik Antonius, and Tom "durrrr" Dwan.
There were some amazing sessions involved, but at one point, Ivey and Antonius were each down by close to $1 million. The two managed to come back big, with Ivey pocketing $1.2 million, and Antonius a cool $2.1 million.
8. Amarillo Slim
Amarillo Slim, who passed away in 2012, was undoubtedly one of the greatest poker players of all time. The American professional was particularly well-known for his proposition bets, as he regularly made side bets while he was playing. He also won the 1972 WSOP Main Event.
Although not a real poker "comeback", Slim's victory is attributed to a discussion among the other players at the table. Poker legends Doyle Brunson and Puggy Pearson decided that Slim would be poker's best representative and soft-played the end of the tournament. Amarillo Slim was inducted into the Poker Hall of Fame in 1992.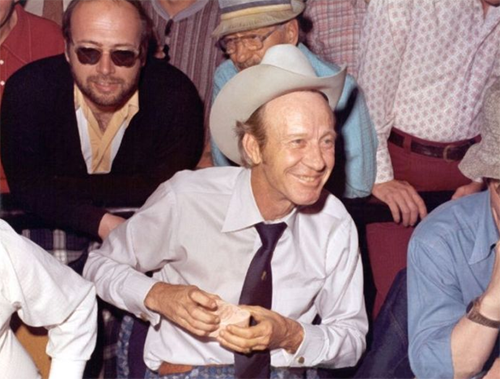 Amarillo Slim at 1974 WSOP: (photo credit: CC-BY-3.0, CryptoDerk, UNLV)
This article was first published by Titan Poker and can be viewed here.