The most famous dog in poker (outside of those dogs playing poker), Casper, has been rushed to the emergency room. 
Long time readers of Gambling911.com know Casper as the vivacious toy poodle owned by poker legend Doyle Brunson.
The Texas Dolly believes that Casper may be suffering from food poisoning. 
"He still has lots of people left to bite. He called it a day after 47," noted Brunson on his Twitter page.
Casper has bitten many over his long life 14-year span, including an infamous incident where he mangled a gas station attendant. (pictured below)
"I thought Casper, my toy poodle, had settled down because he was getting older," Brunson said.  "But when I pulled into a gas station, one of the attendants made the mistake of reaching in the car to pet him. Bam, Casper got his 44th bite victim."
There were unconfirmed reports that Casper bit his surgeon today as well.
At 14, Casper is more than 20 years older than his master in dog years.
"Of course our prayers are with Casper and the Brunson family for his quick recovery," devoted dog lover Jenny Woo of Gambling911.com said.  "Readers of Gambling911.com have grown to love the misadventures of Casper and my own girl, Lexy (pitbull)."
"I couldn't stand it if I lost him."
- Jagajeet Chiba, Gambling911.com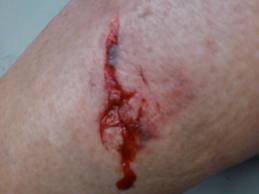 Follow us on Twitter for all the latest breaking gambling news.