Bruce Jenner Comes Out and Doyle Brunson Tweets He Can't Go Back
Published on:
Apr/24/2015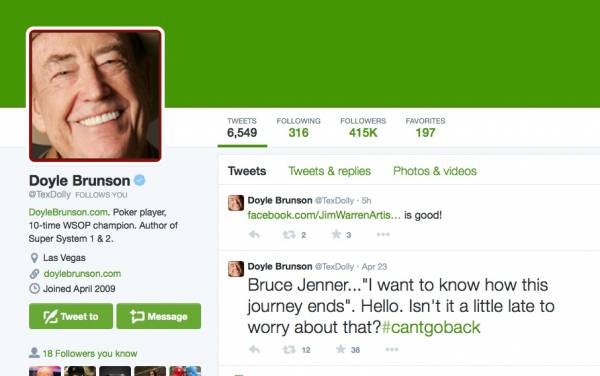 In a two-hour interview with ABC's Diane Sawyer, former Olympian gold medalist and reality television dad Bruce Jenner revealed the worst kept secret: He's a transgender.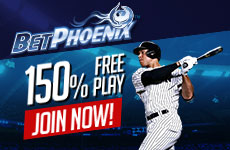 Sawyer and her crew didn't keep the audience hanging as the revelation came out during the first few minutes of the Friday night program. 
"I'm me. I'm a person. This is who I am. I'm not stuck in anybody's body. My brain is much more female than male," Jenner said. "For all intents and purposes, I am a woman. People look at me differently. They see you as this macho male, but my heart and my soul and everything that I do in life it is part of me, that female side is part of me. That's who I am. I was not genetically born that way. ... As of now I have all the male parts and all that kind of stuff so in a lot of ways we're different, but we still identify as female. And that's very hard for Bruce Jenner today. Why? I don't want to disappoint people."
80-year-old poker icon Doyle Brunson has been among Jenner's most ardent critics in recent months, making his way to the pages of TMZ.com.
Brunson once tweeted, "I can't believe Bruce Jenner is trying to become a woman? He was a hero of mine since I was involved in track long ago. #Sayitsnottrue"
Doyle continued, "this man was an Olympic champion that set all kind of records. That's a woman? My hero? Come on!"
The "Texas Dolly" was mum during the broadcast but we suspect he was going to be watching.
Prior to the airing he tweeted:
Bruce Jenner..."I want to know how this journey ends". Hello. Isn't it a little late to worry about that? #cantgoback ‪
The world has become captivated by Jenner's sex change.  As expected, it was the hottest trending topic on Twitter Friday night.  Oddsmakers even offered betting on such things as what new name he would select with "Zoey" listed as the early favorite.
- Nagesh Rath, Gambling911.com