Ante Up for Africa Poker Event Results
Published on:
Jul/07/2010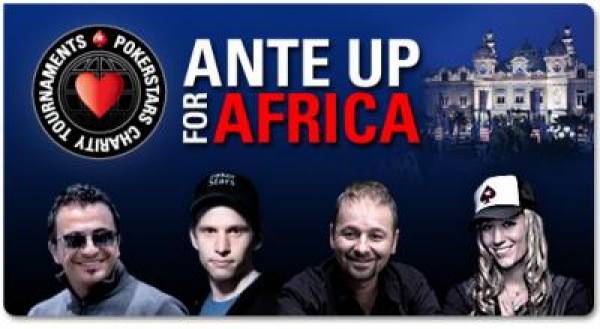 Amidst all the hustle and bustle at the Rio Hotel and Casino, site of this year's World Series of Poker, the chaos was interrupted by orchestrated acts of kindness at this year's Ante Up for Africa event. When the cards went up in the year, 83 players, which included a dazzling array of poker pros and Hollywood celebrities, plunked down $5,000 for this year's cause, the crises in the country of Darfur. When it was all said and done, players had raised almost $300,000 for the cause. Prior to the tournament, there was a star-studded red carpet media session leading into the tournament room where Ante Up for Africa founders Don Cheadle and Annie Duke conveyed the message of their cause.
While actor Ben Affleck skipped the media session entirely, other celebrities to make the rounds included Shannon Elizabeth, Jerome Bettis, Evander Holyfield and Montel Williams. However, following all the Hollywood style glitz and glam, there was poker to be played and when the dust had settled, poker pro Phil Gordon was the last man standing, emerging victorious from a heads up showdown against newly minted Carbon Poker personality Elizabeth. In speaking of his victory, the humble Gordon said "I wish the rest of my WSOP had gone the way this tournament went," alluding to his lack of a single cash.
The final table featured an eclectic mix of celebrities and poker pros as players such as Erik Seidel and Jerome Bettis finished short of glory. The final fateful hand for Elizabeth occurred when she was all in preflop holding K-10 against Gordon's meager Q-3. However, a flopped Queen essentially sealed the deal. After winning, much to the delight of the packed room, Gordon donated all of the winning prize money to the charity, a gesture that he was in no way obligated to do.
Here are the final table results for this year's event:
1.    Phil Gordon - $130,641
2. Shannon Elizabeth - $80,737
3. Alex Filatov - $56,516
4. Carter "BdyBldngpkrplyr" Phillips - $41,166
5. Erik Seidel - $30,287
6. Jerome Bettis - $22,624
7. Barry Hartheimer - $18,146
8. Kyle Carlston - $15,125
9. Claire Renaut - $12,998
Source:  www.aintluck.com
More Poker Articles Like This...