2009 World Series of Poker Final
2009 World Series of Poker Final
You may see a few of these "Best of 2009 Poker and Online Gambling Stories" elsewhere, but Gambling911.com has the real heavy hitters, those stories that scored huge traffic wins.  Yes,
Submitted by C Costigan on, Dec/28/2009
Submitted by Guest on, Nov/03/2009
Matt Graham is making a habit out of winning WSOP bracelets.
Submitted by Guest on, Jun/23/2009
Breaking News
One of Boston's largest tech companies is moving into a new corporate headquarters.
Scrambling to fill out a March Madness bracket? Betting lunch money that you can pinpoint the Final Four better than co-workers or family?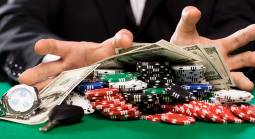 Karen Carter Peterson, a state senator from New Orleans and chair of the Louisiana Democratic Party, admitted to a gambling problem Friday — minutes after WWL-TV posted a news story reporting that she had violated a ban on entering Louisiana casinos.