News of Justin Timberlake featuring an appearance by the late musician Prince during his Super Bowl 52 Halftime performance show had oddsmakers scrambling to offer prop bets on the Prince Hologram.
BetOnline now accepting most forms of cryptocurrencies
"It seems almost a given that the hologram will appear," remarked Tony Caliente, Gambling911.com resident bookmaking expert.
From TMZ.com:
TMZ reported on Saturday, February 3, that Timberlake will be joined onstage by a hologram of the "Little Red Corvette" singer, who died of an opioid overdose at the age of 57 in June 2016.
Nhe concept hasn't sat well with many in the Twitterverse however: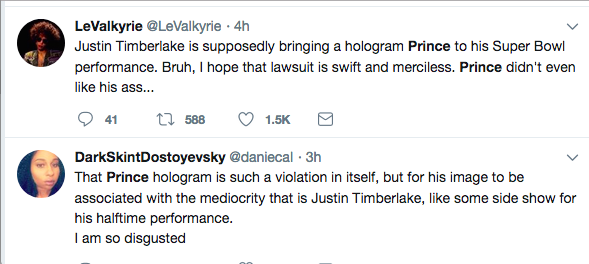 BetOnline hadn't yet released odds on the Prince hologram (as of this writing).  If they do, the most likely prop will be "First Prince Song Heard/Performed During the Halftime Show"
Heading into Saturday the Justin Timberlake Super Bowl 52 Halftime Performance Show odds were especially popular.
A list appears below and can be wagered on at BetOnline.
- Jordan Bach, Gambling911.com