Top 10 hottest athletes.....WIVES

Jenny Woo www.sports911.com

Entering the new year, I would like to extend a special shout out to all those hot athlete's wives who in 2004 really came out from behind the shadows in a very big way. These are the "trophies" some of the guys listed here might never receive on the field or arena.
-------------------------
10. Victoria "Posh" Beckham - While not quite as pretty as her husband, how can Jenny possibly leave the former Spice Girl off my list of sexiest sports star wives? The poor woman has had to deal with her hubby's alleged infidelity over this past year...but she's practically royalty so stick by your man Victoria. And when he does you wrong again, ask for one of those Kobe Bryant necklaces.
9. Russian football players wives - The Russian team at Euro 2004 has been given a welcome boost before the side kicks off on Saturday after getting a lucky strip — a nude photo-shoot by their wives. Right - Tatyana Evseyeva poses with a picture of her husband.....uhhh What's his name?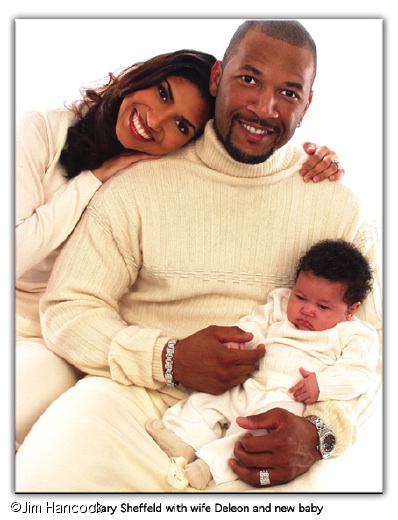 8. Deleon Sheffield - Gary Sheffield's wife who starred in a steamy sex video with a former boyfriend. She also reportedly had a "relationship" with recording artist, R. Kelly....But then again, who hasn't? Deleon, a gospel singer herself, was singing the blues in 2004 but we loved looking at her.
7. Tyra Banks - Yeah I know, she's not Sacramento Kings player Chris Webber's wife yet....but when we think of hottttttttttttt "trophy" girlfriends, Tyra Banks makes the whole wife thing just a formality.
6. Mike Piazza's wife - Need we say more? A well known poster here at Sports911.com claims to have met Piazza's new wife and says she is a stunner, but nobody else has seen her and the only picture we could find was this one below, which we can't verify is actually her...or him. Jenny is sooooooo bad. I'd rather he be gay than married.

Mike Piazza's wife?
See his real wife here
5. ARod's wife, Cynthia Rodriguez.
4. Joumana Kidd The New Jersey press loves to show T.J. and discuss how cute he is. Little T.J. is adorable but showing him all the time is just an excuse to get a close up of the mother, Joumana. Thank goodness for Little T.J., otherwise it might not be deemed "appropriate".
3. Anna Benson Wife of that other Mets star, Kris Benson, got Jenny all hot and bothered after her appearance on the Howard Stern show when she admitted to having sex with Kris (and Lord knows who else) behind home plate and in the dug out. You go girl!!!
2. Vanessa Bryant - How she puts up with Kobe....God only knows. Oh yeah, that infamous $4 million ring! I almost forgot.
AND THE WINNER IS....
What more needs to be said? Does Jenny need to explain her choice for number one?
-----
Jenny Woo, www.gambling911.com
Revised August 4, 2005 10:13 am EST