Odds to Win the 2015 Kentucky Derby – Firing Line
Published on:
Apr/30/2015
Firing Line had odds of winning the 2015 Kentucky Derby set at 12/1 following Wednesday evening's post position draw.
He has finished 1st or 2nd in all five of his races including a 2nd place finish in the grade 1 Futurity.
Trainer Simon Callaghan loves his horse's starting position.
"I'm very happy with the draw. I believe we're last to load, which is an advantage. And with the No. 10, you've got options."
It's also the post position that has won the most times tied with the number 5 spot, where California Chrome was the victor last year.
One of the cons associated with Firing Line is his ability to run the distance at Churchill Downs.  Frankly put, he may not have enough gas in the tank.
He also hasn't beaten a top competitor other than Mr Z who comes in as a big 50/1 long shot to win this year's Kentucky Derby. 
The Miami Herald notes that "no horse with Storm Cat in his pedigree has won the Derby and that colt hit the breeding shed back in 1988".
Scroll Down For Odds...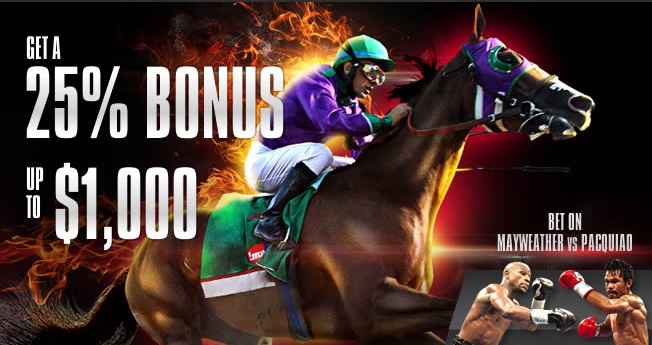 TO WIN THE 2015 KENTUCKY DERBY

KENTUCKY DERBY 2015 (TO WIN) - Apr 30

 

Apr 30 - 6:15 PM

6001

TO WIN THE 2015 KENTUCKY DERBY

AMERICAN PHAROAH

+200

 

Apr 30 - 6:15 PM

6002

TO WIN THE 2015 KENTUCKY DERBY

CARPE DIEM

+400

 

Apr 30 - 6:15 PM

6003

TO WIN THE 2015 KENTUCKY DERBY

DORTMUND

+350

 

Apr 30 - 6:15 PM

6004

TO WIN THE 2015 KENTUCKY DERBY

MUBTAAHIJ

+750

 

Apr 30 - 6:15 PM

6005

TO WIN THE 2015 KENTUCKY DERBY

MATERIALITY

+850

 

Apr 30 - 6:15 PM

6006

TO WIN THE 2015 KENTUCKY DERBY

INTERNATIONAL STAR

+1300

 

Apr 30 - 6:15 PM

6007

TO WIN THE 2015 KENTUCKY DERBY

FIRING LINE

+1200

 

Apr 30 - 6:15 PM

6008

TO WIN THE 2015 KENTUCKY DERBY

UPSTART

+1300

 

Apr 30 - 6:15 PM

6009

TO WIN THE 2015 KENTUCKY DERBY

FAR RIGHT

+3000

 

Apr 30 - 6:15 PM

6010

TO WIN THE 2015 KENTUCKY DERBY

FROSTED

+1400

 

Apr 30 - 6:15 PM

6012

TO WIN THE 2015 KENTUCKY DERBY

EL KABEIR

+2400

 

Apr 30 - 6:15 PM

6013

TO WIN THE 2015 KENTUCKY DERBY

BOLO

+3000

 

Apr 30 - 6:15 PM

6014

TO WIN THE 2015 KENTUCKY DERBY

ITSAKNOCKOUT

+2500

 

Apr 30 - 6:15 PM

6015

TO WIN THE 2015 KENTUCKY DERBY

KEEN ICE

+3000

 

Apr 30 - 6:15 PM

6017

TO WIN THE 2015 KENTUCKY DERBY

DANZIG MOON

+3000

 

Apr 30 - 6:15 PM

6018

TO WIN THE 2015 KENTUCKY DERBY

WAR STORY

+3500

 

Apr 30 - 6:15 PM

6019

TO WIN THE 2015 KENTUCKY DERBY

MR Z

+5000

 

Apr 30 - 6:15 PM

6020

TO WIN THE 2015 KENTUCKY DERBY

STANFORD

+5500

 

Apr 30 - 6:15 PM

6023

TO WIN THE 2015 KENTUCKY DERBY

OCHO OCHO OCHO

+3500

 

Apr 30 - 6:15 PM

6024

TO WIN THE 2015 KENTUCKY DERBY

TENCENDUR

+6500

 
KENTUCKY DERBY PROPS

Lines From:04-29-2015 21:10:55

 

Cut Off

#

Description

Odds

KENTUCKY DERBY PROPS - Apr 30

Apr 30 - 6:15 PM

WILL A HORSE WIN THE 2015 TRIPLE CROWN

 
 

6501

YES

+750

 
 

6502

NO

-1000

Apr 30 - 6:15 PM

KENTUCKY DERBY - WINNING SADDLECLOTH NUMBER

 
 

9507

NUMBERS 1 -10

-115

 
 

9508

NUMBERS 11- 20

-115

Apr 30 - 6:15 PM

KENTUCKY DERBY - WINNING TIME

 
 

6507

OVER 2:02.50

+105

 
 

6508

UNDER 2:02.50

-135

Apr 30 - 6:15 PM

KENTUCKY DERBY - WINNING SADDLECLOTH NUMBER

 
 

6503

ODD

-115

 
 

6504

EVEN

-115

Apr 30 - 6:15 PM

KENTUCKY DERBY - WINNING HORSE NAME BEGINS WITH

 
 

6505

LETTERS A E I O U

+160

 
 

6506

ANY OTHER LETTER

-220

 
2015 TRIPLE CROWN WINNER

Lines From:04-29-2015 21:10:55

 

Cut Off

#

Description

Odds

2015 TRIPLE CROWN WINNER - Apr 30

ALL BETS ARE ACTION

Apr 30 - 6:15 PM

TO WIN THE 2015 TRIPLE CROWN BY A SPECIFIC HORSE

 
 

8001

AMERICAN PHAROAH

+850

 
 

8002

CARPE DIEM

+1550

 
 

8003

DORTMUND

+950

 
 

8004

EL KABEIR

+12500

 
 

8005

FAR RIGHT

+12500

 
 

8006

FIRING LINE

+6500

 
 

8007

FROSTED

+5000

 
 

8008

INTERNATIONAL STAR

+5000

 
 

8009

ITSAKNOCKOUT

+17500

 
 

8010

KEEN ICE

+17500

 
 

8011

MADEFROMLUCKY

+17500

 
 

8012

MATERIALITY

+5500

 
 

8013

MUBTAAHIJ

+3500

 
 

8014

UPSTART

+5000

 
 

8015

WAR STORY

+17500

 
 
 
 
 
 
 
- Mary Montgomery, Gambling911.com