Odds to Win the 2010 Breeders' Cup
Published on:
Nov/04/2010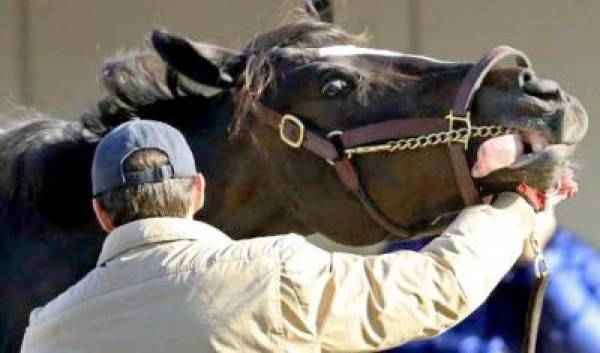 The latest odds to win the 2010 Breeder's Cup have been posted by BetUS.com (see website here).  As would be expected, the world famous Zenyatta comes in as the favorite to win this year's Breeders' Cup, however, Zenyatta is hardly a lock with better than even payout odds of +125 (these odds actually got longer from +100 earlier in the day Thursday).
Lookin at Lucky and Blame would both pay out $450 for every $100 bet.
1          Quality Road                +600
2          Paddy O'Prado              +1400
3          Haynesfield              +1000
4          First Dude              +2000
5          Blame              +450
6          Fly Down              +1500
7          Musket Man              +2500
8          Zenyatta              +125
9          Pleasant Prince              +3000
10          Etched              +2000
11          Espoir City              +1600
12          Lookin at Lucky              +450
Alicia Wincze Hughes of the McClatchy Newspapers writes of Lookin At Lucky:
Barring a series of unlikely events in the $5 million Breeders' Cup Classic this Saturday, Lookin At Lucky is poised to become the first horse in 31 years to claim that honor. The reigning juvenile champion has established himself as the clear leader of this year's sophomore class.
Regarding Blame, Hughes writes:
While undefeated champion and defending Classic winner Zenyatta appears to be the horse to beat in the $5 million Classic, the handsomely built and regally bred Blame is the contender many pundits say could ruin the grand dame's flawless career.
Since winning the 1 [-mile Clark last season, Blame has blossomed into everything his team had hoped for -- a multiple Grade I winner who has defeated most of his main competition.
"It is very much luck that's gotten us here because it doesn't usually go that way," Stall said. "When we thought he was an elite horse last summer, we had in the back of our minds the Breeders' Cup at the end of his 4-year-old year at Churchill Downs. We put a big "X" on that date.
"I feel like we're every bit as good or even better than those horses. We're ready for them, and we're not going to back down at all."
Of course if you want the really big payout, Pleasant Prince is your horse, paying $3000 for every $100 bet with a victory.
- Don Shapiro, Gambling911.com