With the Breeders Cup 2009, there is more to bet on than simply the Classic.  The folks at betED.com have posted odds on each of the races some of which have some pretty enticing payouts.
The first Breeders Cup 2009 race begins at 1:45 pm EST with Viscount Nelson as the +285 favorite, meaning he would stand to pay out $28.50 on every $10 bet.
The Classic concludes this day of Breeders Cup races with a starting time of 6:45 pm EST.  It will be broadcast live on ESPN. 
The Breeders' Cup World Championships is an annual series of Grade I thoroughbred horse races. From its inception in 1984 through 2006, it was a single-day event; starting in 2007, it expanded to two days.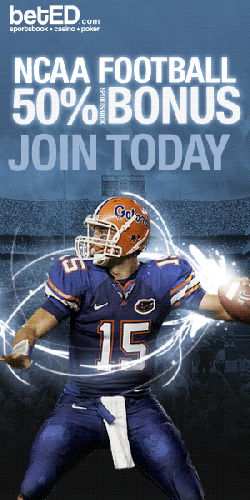 The Breeders Cup is one of the most wagered on horse races, though it pales in comparison to the Kentucky Derby, which is the single most bet on sporting event in the United States. 
Gambling911.com was reporting brisk traffic for the 2009 Breeders Cup in terms of wagering interest. 
Race (Nov. 7)
TV
Post Time (ET)
Juvenile Turf
ABC
1:45 p.m.
Turf Sprint
ABC
2:23 p.m.
Sprint
ABC
3:10 p.m.
Juvenile
ESPN
3:49 p.m.
Mile
ESPN
4:28 p.m.
Dirt Mile
ESPN
5:12 p.m.
Turf
ESPN
5:57 p.m.
Classic
ESPN
6:45 p.m.
All Breeders Cup 2009 Odds below can be bet on at betED.com here  Claim your FREE CASH BONUS by using bonus code: GAMBLING911
Odds to win the 2009 Breeders Cup - Juvenile Turf

 

 

Zip Quik

+3000

 - 

 - 

 

 

Viscount Nelson

+285

 - 

 - 

 

 

Codoy

+1600

 - 

 - 

 

 

Pounced

+285

 - 

 - 

 

 

Gallant Gent

+2200

 - 

 - 

 

 

Awesome Act

+1200

 - 

 - 

 

 

Bridgetown

+800

 - 

 - 

 

 

King Ledley

+1800

 - 

 - 

 

 

Beckys Kitten

+1400

 - 

 - 

 

 

Interactif

+350

 - 

 - 

 

 

Buzzword

+700

 - 

 - 

 

 

Deans Kitten

+1200

 - 

 - 

 

Odds to win the 2009 Breeders Cup - Turf Sprint

 

 

Noble Court

+900

 - 

 - 

 

 

Silver Timber

+725

 - 

 - 

 

 

California Flag

+325

 - 

 - 

 

 

Lord Shanakill

+745

 - 

 - 

 

 

Get Funky

+1800

 - 

 - 

 

 

Cannonball

+725

 - 

 - 

 

 

Gotta Have Her

+1100

 - 

 - 

 

 

Square Eddie

+1800

 - 

 - 

 

 

Diamondrella

+425

 - 

 - 

 

 

Canadian Ballet

+1800

 - 

 - 

 

 

El Gato Malo

+2800

 - 

 - 

 

 

Strike the Deal

+1100

 - 

 - 

 

 

Desert Code

+1600

 - 

 - 

 

 

Delta Storm

+1400

 - 

 - 

 

Odds to win the 2009 Breeders Cup - Sprint

 

 

Zensational

+145

 - 

 - 

 

 

Cost of Freedom

+1800

 - 

 - 

 

 

Fatal Bullet

+525

 - 

 - 

 

 

Crown of Thorns

+1200

 - 

 - 

 

 

Gayego

+185

 - 

 - 

 

 

Dancing in Silks

+1800

 - 

 - 

 

 

Join in the Dance

+3500

 - 

 - 

 

 

Capt Candyman Can

+550

 - 

 - 

 

 

Fleeting Spirit

+550

 - 

 - 

 

Odds to win the 2009 Breeders Cup - Juvenile

 

 

Alfred Nobel

+700

 - 

 - 

 

 

Piscitelli

+3500

 - 

 - 

 

 

Beethoven

+900

 - 

 - 

 

 

Nobles Promise

+650

 - 

 - 

 

 

D Funnybone

+300

 - 

 - 

 

 

Pulsion

+1600

 - 

 - 

 

 

Vale of York

+1800

 - 

 - 

 

 

Eskendereya

+900

 - 

 - 

 

 

Aikenite

+875

 - 

 - 

 

 

Aspire

+2200

 - 

 - 

 

 

Radiohead

+700

 - 

 - 

 

 

Williams Kitten

+3500

 - 

 - 

 

 

Lookin At Lucky

+200

 - 

 - 

 

Odds to win the 2009 Breeders Cup - Mile

 

 

Court Vision

+1800

 - 

 - 

 

 

Whatsthescript

+2000

 - 

 - 

 

 

Cowboy Cal

+900

 - 

 - 

 

 

Delegator

+425

 - 

 - 

 

 

Karelian

+1800

 - 

 - 

 

 

Courageous Cat

+2300

 - 

 - 

 

 

Ferneley

+2300

 - 

 - 

 

 

Zacinto

+365

 - 

 - 

 

 

Gladiatorus

+745

 - 

 - 

 

 

Justenuffhumor

+1200

 - 

 - 

 

 

Goldikova

+125

 - 

 - 

 

Odds to win the 2009 Breeders Cup - Dirt Mile

 

 

Mastercraftsman

+150

 - 

 - 

 

 

Furthest Land

+1800

 - 

 - 

 

 

Midshipman

+375

 - 

 - 

 

 

Bullsbay

+365

 - 

 - 

 

 

Neko Bay

+1800

 - 

 - 

 

 

Mambo Meister

+2100

 - 

 - 

 

 

Pyro

+900

 - 

 - 

 

 

Mr Sidney

+1200

 - 

 - 

 

 

Chocolate Candy

+500

 - 

 - 

 

 

Readys Echo

+1800

 - 

 - 

 

Odds to win the 2009 Breeders Cup - Turf

 

 

Telling

+2000

 - 

 - 

 

 

Conduit

+105

 - 

 - 

 

 

Red Rocks

+1800

 - 

 - 

 

 

Dar Re Mi

+225

 - 

 - 

 

 

Presious Passion

+625

 - 

 - 

 

 

Spanish Moon

+285

 - 

 - 

 

 

Monzante

+2800

 - 

 - 

 

Odds to win the 2009 Breeders Cup Classic

 

 

Mine That Bird

+1800

 - 

 - 

 

 

Colonel John

+2000

 - 

 - 

 

 

Summer Bird

+645

 - 

 - 

 

 

Zenyatta

+225

 - 

 - 

 

 

Twice Over

+1000

 - 

 - 

 

 

Richards Kid

+1400

 - 

 - 

 

 

Gio Ponti

+1100

 - 

 - 

 

 

Einstein

+1800

 - 

 - 

 

 

Girolamo

+2300

 - 

 - 

 

 

Rip Van Winkle

+180

 - 

 - 

 

 

Regal Ransom

+1800

 - 

 - 

 

 

Quality Road

+900

 - 

 - 

 

 

Awesome Gem

+4500