American Pharoah vs. Dortmund, Firing Line Betting Odds – Preakness Stakes
Published on:
May/15/2015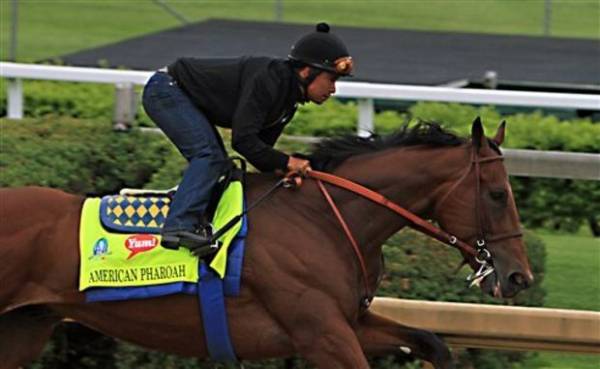 Our friends at BetOnline were offering Preakness Stakes matchup betting odds on American Pharoah vs Dortmund and Firing Line.
Instead of betting the future odds to win, you can wager on which of these two horses will outperform the other with neither horse necessarily needing to win the race.
In the case of American Pharoah, it's the favorite vs. the field.  As such, any horse that beats American Pharoah (Dortmund and Firing Line included) pays $11 for every $10 bet.
"This can be seen as a better option for anyone who doesn't believe American Pharoah will win but is looking for some insurance," notes Don Shapiro of Gambling911.com.  "After American Pharoah, it is hard to decide between Dortmund and Firing Line.  Then who is to say one of the long shots won't pul off the upset?"
Below are all your Preakness Stakes matchup odds throughout the day.
Saturday, May 16, 2015

11-PIMLICO - 4th Race - TURF ONLY

11:00 AM

121

All I Karabout

 

-110

 

122

Woodwin W

 

-120

 

11:30 AM

123

Sandbar

 

-115

 

124

Souper Knight

 

-115

 

12:30 PM

125

Fame and Power

 

-110

 

126

Donworth

 

-120

 

14-PIMLICO - 9th Race - TURF ONLY

01:45 PM

127

Emotional Kitten

 

-115

 

128

Sistas Stroll

 

-115

 

02:30 PM

129

Blame Jim

 

-110

 

130

Holy Boss

 

-120

 

16-PIMLICO - 11th Race - TURF ONLY

03:15 PM

131

Ageless

 

-105

 

132

Shrinking Violet

 

-125

 

17-PIMLICO - 12th Race - TURF ONLY

04:00 PM

133

Grand Tito

 

-120

 

134

Aripeka

 

-110

 

21-PIMLICO - The Preakness

04:30 PM

141

American Pharoah

 

-140

 

142

The Field

 

+110

 

22-PIMLICO - The Preakness

04:30 PM

143

Dortmund

 

-115

 

144

Firing Line

 

-115

 

23-PIMLICO - The Preakness

04:30 PM

145

Mr. Z

 

-155

 

146

Bodhisattva

 

+120

 

24-PIMLICO - The Preakness

04:30 PM

147

Danzig Moon

 

-110

 

148

Divining Rod

 

-120

 
 
- Tyrone Black, Gambling911.com