2012 Breeders Cup Classic Ratings Up in Prime Time But Still Comes in Last Place
Published on:
Nov/05/2012
There is good news and there is bad news as it applies to the Breeders Cup Classic making its primetime debut this year.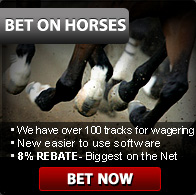 The good news, ratings were way up over last year.
The bad news, the 2012 Breeders Cup Classic still managed a dead last appearance.
There were other variables at play, however, as Michael Dempsey of TurfNSport.com explains: 
CBS had the Bayou Classic between #1 ranked Alabama and #5 LSU, FOX had #2 Oregon vs. #18 USC, and ABC was showing Oklahoma St. vs. #3 Kansas St.
The Breeders' Cup did get a break with a solid lead in as the Pittsburgh vs. Notre Dame game went into triple overtime.
While the ratings for the Breeders' Cup this year was 83% higher than last year's afternoon telecast on ESPN, horse racing still came in last in the ratings.
A total of 2.79 million views watched Fort Larned go gate to wire to win the Classic, while 10.42 million were watching Alabama stay undefeated.
The Breeders' Cup missed an opportunity to show the likely Horse of the Year, as Wise Dam was an impressive winner in the Mile, but the NBC telecast only showed one live race.
- Don Shapiro, Gambling911.com