The Scoop on Progressive Slot Machines
Published on:
Dec/16/2017
There are two basic types of slot machine jackpots aside from online slots. The first type is the old school slot machines where the jackpot was listed right on the slot machine glass permanently and was almost always three or five 7's, depending on how many reels there were. The original slot machine was invented in 1887 by Charles Fey and basically remained the same for almost 100 years.
In 1986, the second type of slot machine hit the market. A progressive slot machine. The first progressive slot machine was made by International Game Technologies (IGT) and was called Megabucks. This allowed slot machines to be linked together to create huge jackpots. Nobody had ever seen anything like it, with the Megabucks jackpot starting at $1,000,000 each time it was hit. About 11 months later, the first ever progressive jackpot hit for $4,988,842.17 and the public was hooked.
Scroll Down For More....

How do progressive jackpots grow?
When playing a progressive slot machine, every time you spin the reels a portion gets sent to the progressive jackpot(s). This could be anywhere from 5% of each spin up to 20% of each spin. This 5% to 20% is what makes the jackpot increase each spin. So for example, if you are playing a penny slot machine where you have to play 150 coins ($1,50) to be eligible for the progressive jackpot, 20% of each spin, or $0.30 might be going towards the progressive jackpot(s). Every spin from every machine included in the progressive increases the jackpot until eventually someone hits it and it resets at the base starting amount.
Types of Progressives
Within the world of progressive slot machines there are three types of progressive machines. They are:
Standalone Progressives
A standalone progressive use the money wagered on that machine to fund the progressive   jackpot on that machine only. It could be one main jackpot or a popular trend recently has been             to have multiple levels of jackpots. Three to five levels starting from a few dollars for the lowest level to thousands of dollars for the big jackpot. Standalone progressives can be found both in last based and online casinos.
Local Area Progressives
Local Area Progressives are mostly found in land based casinos and are progressives with   machines linked together via high speed lines (that you can't see) within the casino. The casino  could have a couple of machines next to each other or a whole row of linked machines, or even multiple machines scattered throughout their casino. This linking of machines helps make the  jackpots start and grow larger. These types of jackpots are normally in the tens or hundreds of    thousands of dollars.
Wide Area Progressives
Wide Area Progressives link machines in land based casinos from across an entire State or even across the County. They are also hugely popular in linking games from different online casinos into one or multiple jackpots. These types of machines could have dozens or even hundreds of machines linked together to create monster jackpots. You'll easily spot these types of machines with jackpots getting into the millions or tens of millions of dollars.
The largest progressive jackpot in a land based casino ever hit so far has been a 39.7 million dollar jackpot on a Megabucks slot machine in Las Vegas, Nevada in March of 2003.
Scroll Down For More....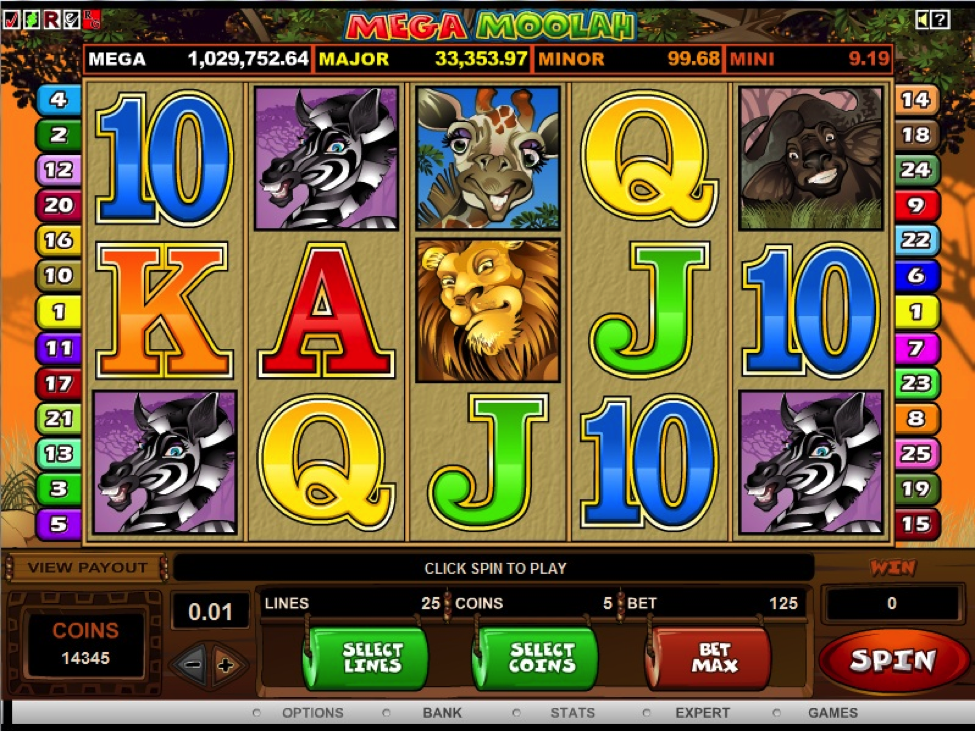 The largest progressive jackpot in an online casino so far has been just over 20 million in October of 2015 on a game called Mega Moolah at a casino called Betway which Mega Moolah has an 88.12% RTP and is made by Microgaming software.