Portnoy-Penn Relationship Raises Concerns in Mass...BetMGM Decision Delayed Too
Published on:
Dec/08/2022
Dave Portnoy is one of the more controversial figures in sports media.  Now that appears to be coming back to bite him apparently on the sports gambling front.
In regards to Plainridge Park Casino, located halfway between Boston and Providence, Massachusetts Gaming Commission's (MGC) Chair Cathy Judd-Stein, Commissioners Nakisha Skinner and Eileen O'Brien all agreed that Portnoy's ties to the casino raises regulatory concerns.
Plainridge Park Casino is owned by Penn Entertainment, which also controls Portnoy's Barstool Sports. 
"There is a lot that goes with David Portnoy being the main marketer of Barstool Sports and the applicant has hitched itself to that company and to that brand deliberately, to me, delving into what that means in terms of suitability, honesty, and integrity of the applicant. That bears a discussion by this commission," O'Brien commented.
Aside from his controversial views, a reporter last year accused Portnoy of rape.  He denied the allegations but drew more attention to them in the process. 
He tweeted in the third person:
"This spin didn't take long. Accuse Dave of rape. Dave proves he's innocent. Dave bad guy for going after reporter who falsely accused him and who refused to engage about facts of case and tried to ruin his life accusing him of horrific crime."
Portnoy would go on to sue the reporter, Julia Black of Insider.
To this day, her claim remains up on Twitter.
This is the hardest I've ever worked on a story, and I hope you'll take some time to read it. Thank you to the team at @insider for their support, and of course, the brave sources who spoke to me over the last 8 months. https://t.co/nt4wmt6DFS

— Julia Black (@mjnblack) November 4, 2021
She wrote that he had "violent and humiliating" sex with women as young as 19.  A follow up report alleges Portnoy filmed multiple women during sex without their consent.
While recording one of his four-minute pizza reviews at La Capricciosa Brick Oven Pizza in Greenport over the summer, a woman could be heard going off on Portnoy, calling him a "rape apologist,"
"You're a f–king jerk. Zoom in on him, and see how f–king soulless he is," the mystery woman snaps back after he tells his camera person to zoom in on her.
"Why do you say that?" Portnoy responds.
"Because I've seen the s–t that you write and also your anti-union bulls–t is disgusting," she says.
The Barstool Sports founder regularly engages his followers when it comes to the day's hot button subject matter.
Thursday morning he lashed out via Twitter about the prison swap between Russian arms trader Viktor Bout and WNBA star Brittney Griner.
"Still can't believe we traded the Merchant of Death straight up for Britney Griner," he tweeted.
Plainridge wants in-person and mobile betting privileges. All the commissioners agreed to put off the Plainridge Park's Category 1 sports betting license review until at least next week.
Then There's BetMGM
While MGM Resorts International tends to enjoy a mostly pristine reputation, MGM Springfield in particular, BetMGM is linked to the European gaming firm Entain.  That company just got handed down a record £17mn fine in August for failure to adhere to social responsibility and anti-money laundering (AML) safeguards, all courtesy of the Gambling Commission in the United Kingdom.
BetMGM would be handling the MGM Springfield property's web betting, which the commissioners were previously unaware of.
Andrew Rhodes, Gambling Commission chief executive, said: "Our investigation revealed serious failures that have resulted in the largest enforcement outcome to date.
"There were completely unacceptable anti-money laundering and safer gambling failures. Operators are reminded they must never place commercial considerations over compliance.
"This is the second time this operator has fallen foul of rules in place to make gambling safer and crime free.
"They should be aware that we will be monitoring them very carefully and further serious breaches will make the removal of their licence to operate a very real possibility. We expect better and consumers deserve better."
Entain CEO, Kenneth Alexander released a statement following the punitive measures: "Soon after the acquisition of Ladbrokes Coral following meetings and ongoing enquiries by the Gambling Commission, it became clear to GVC that there had been historic compliance failures within certain areas of the operations. Working closely with the Gambling Commission and an independent firm of solicitors, GVC facilitated a thorough, prompt and far-reaching investigation, which has led to today's settlement. These historical failings were unacceptable and since the acquisition, I have overseen a systematic review of the enlarged Group's player protection procedures and the individuals responsible for these problems have exited the business. I am confident that, we now have in place a robust and industry leading approach to player protection.
"More broadly, GVC is determined to take the lead in the critical area of responsible gambling, and is taking decisive, tangible action across a range of initiatives. This includes our recent voluntary commitment to increase funding for research, education and treatment projects ten-fold, as well as our decision to end all sponsorship deals that promote our brands on UK football shirts or on pitch-side advertising hoardings. However, there is more to be done and social responsibility and we will continue to work with other gambling companies and the Gambling Commission to raise operating standards."
In recent week's, BetMGM affiliates (and oddly enough, MassLive) could be found abusing news aggregators like Google News.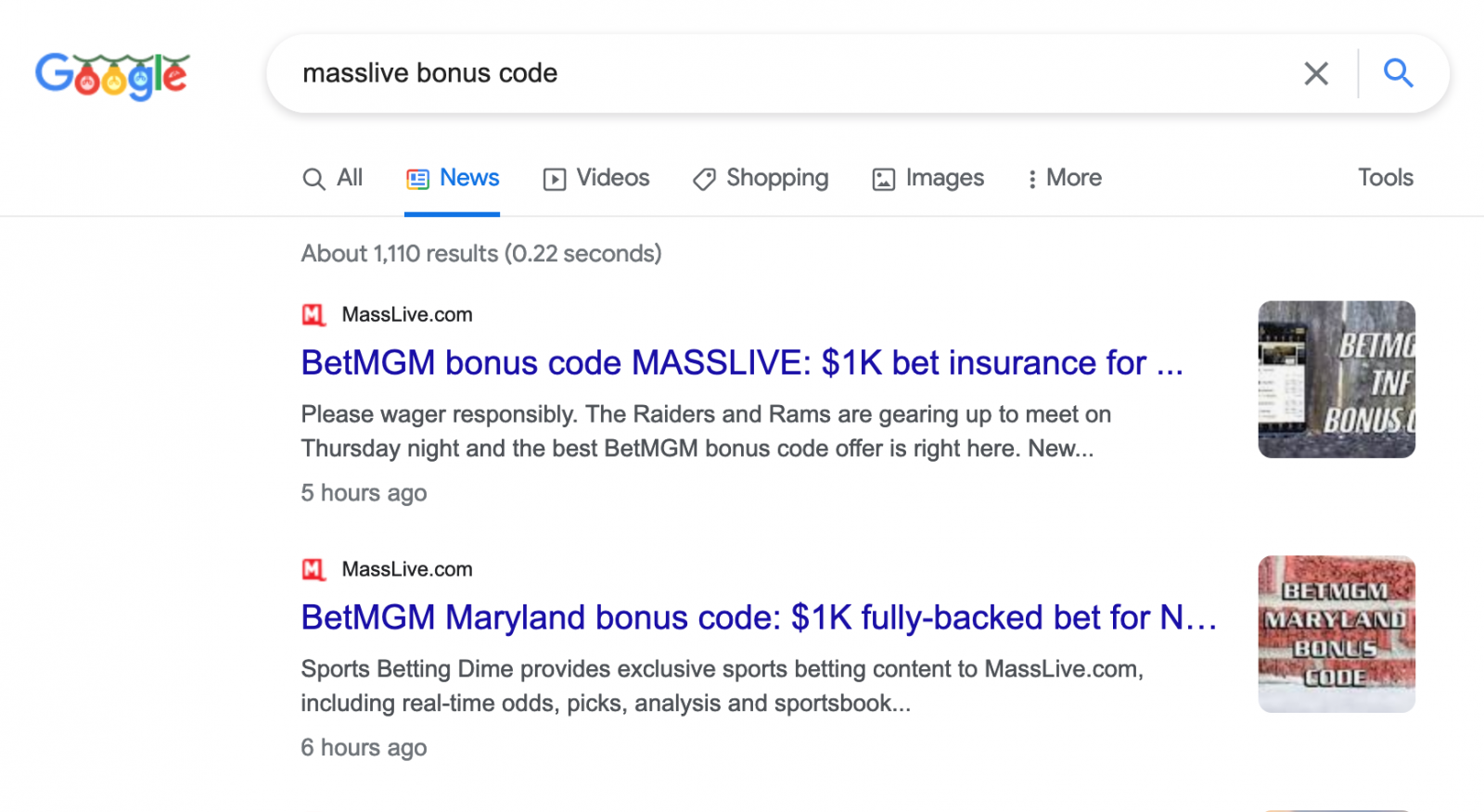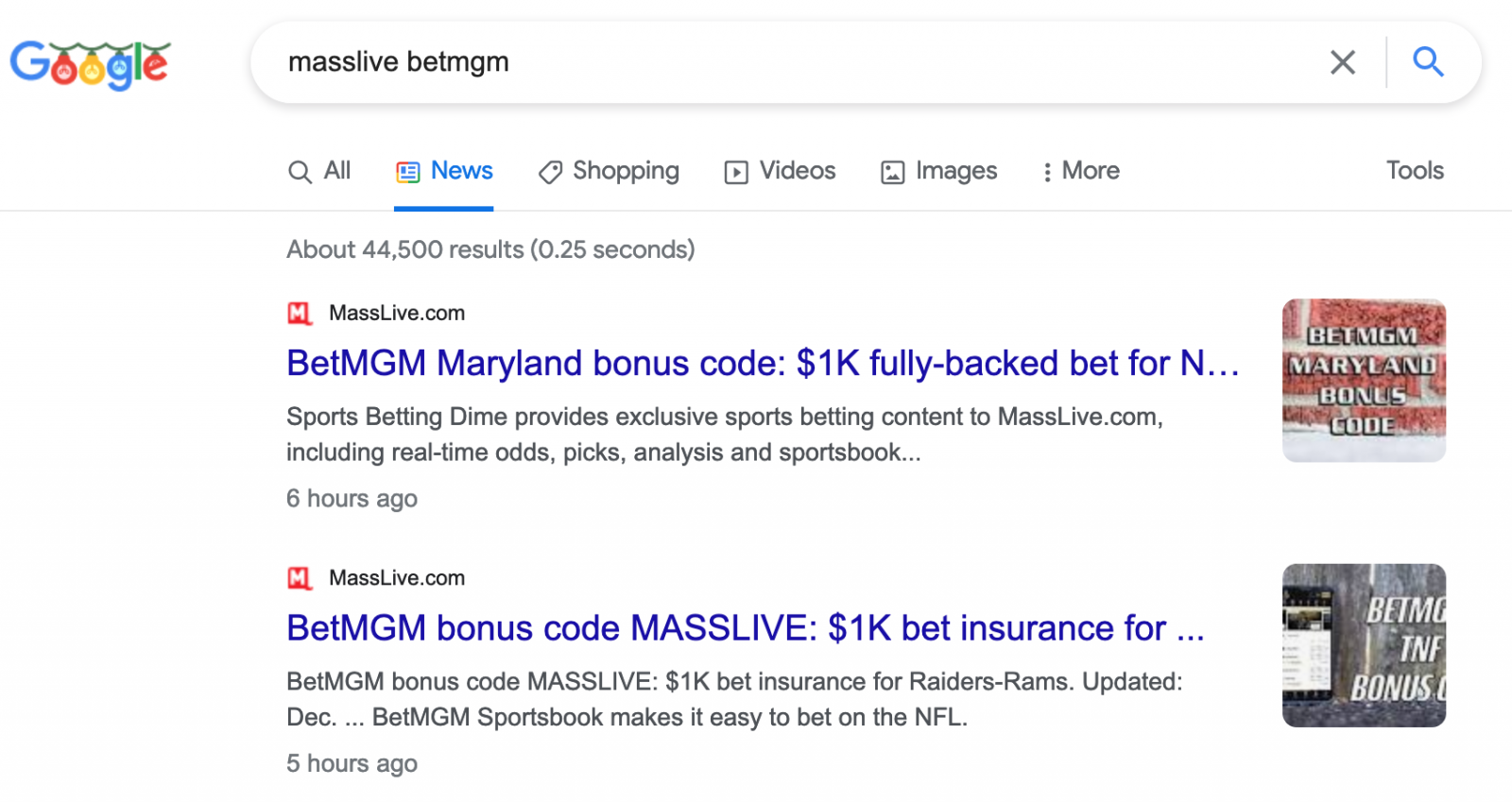 The commissioners simply want more time to review BetMGM as they appeared unfamiliar with that company's operating practices. 
"In terms of a full evaluation and deliberation of the application, I'm just not prepared to do that today without having the benefit of the review of the BetMGM application," commented Skinner.
- Alejandro Botticelli, Gambling911.com