NetEnt Goes All Out Ape S*** at Sigma2017 Malta - Affiliates Going Gaga: Reviews Are Good
Published on:
Nov/25/2017
We here at Gambling911.com love us some apes, especially the Planet of the Apes types.

NetEnt offered up the perfect opportunity for folks attending this year's Sigma2017 Malta to indulge in a little bit of monkey business, and that's exactly what we did. 
At the NetEnt booth, folks were offered the opportunity to have their photos taken with real Planet of the Apes.  A polaroid photo was provided as the momentum.
The name is becoming very well known within the iGaming community, mostly all positive.
"We are a leading provider of premium gaming solutions to the world's most successful online casino operators. We have been a true pioneer in driving the market with our thrilling games powered by our cutting-edge platform. Our talented people take pride in delivering flexible digital casino solutions, so that our customers can be unique, premium, informed and ahead, all at the same time. Digital entertainment is our passion, come – entertain with us!"
Scroll Down For More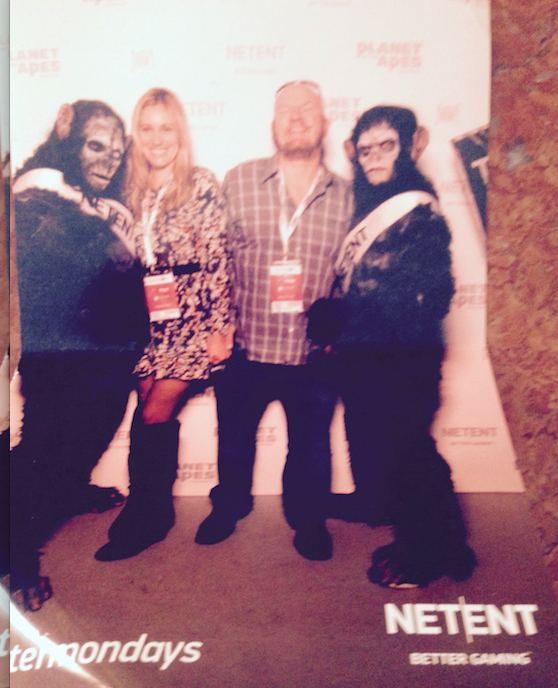 The Gambling911.com crew monkeying around with NetEnt
A little surprising that NetEnt would even partake in an affiliate conference run out of Malta considering a controversy that occurred in the summer of 2016.
It was then that CasinoMeister.com, a well regarded watchdog of the online casino sector run by the freakishly cool Bryan Bailey claimed that another casino operator flat out pirated the NetEnt casino games….and yeah, they were Maltese licensed. 
Gambling911.com cannot independently confirm this is true. CasinoMeister claims the Maltese Gaming Authority has yet to reach out to them regarding this matter.
A lot of the reviews tied to NetEnt are good, albeit it's more about the work environment, which makes us want to fill out an application.
"Culture, people, offices look great, environment at office is relaxed, free breakfasts and beer, free classes, lots of activities and events, the company values the people and believes in them, work/life balance".
Free beer? What can possibly go wrong?
In Case You Missed It:
SiGMA Undercover: G911 Investigates if it is Worth Affiliates Coming to Malta

For those in Malta at this year's Sigma2017 the official full Day 1 kicks off Thursday Thanksgiving Day (for those who celebrate in the USA
SiGMA, now among the top online gambling affiliate conferences, is due to officially kick off Wednesday with a pre-registration cocktail gathering.  The conference and expo hall opens Thursday.
- Jagajeet Chiba, Gambling911.com