The odds support it, and our recent Twitter survey shows that America believes another Alabama player will take home the Heisman Trophy in 10 days.
Our crack staff created a keyword association map based on geo-tracked Twitter data over the last four weeks. The study included more than 200,000 tweets, hashtags and direct keyword phrases about who should win the Heisman Trophy this season.
Queries were run in each state for terms such as "Heisman," "win the Heisman," "Heisman Trophy," #Heisman, #Heisman2021, etc. The player's name most associated with those terms then "won" that state.
The results weren't all that close, with Alabama's Bryce Young leading the pack with 26 states. Ohio State's C.J. Stroud was second with 16 states, and then there was a big dropoff.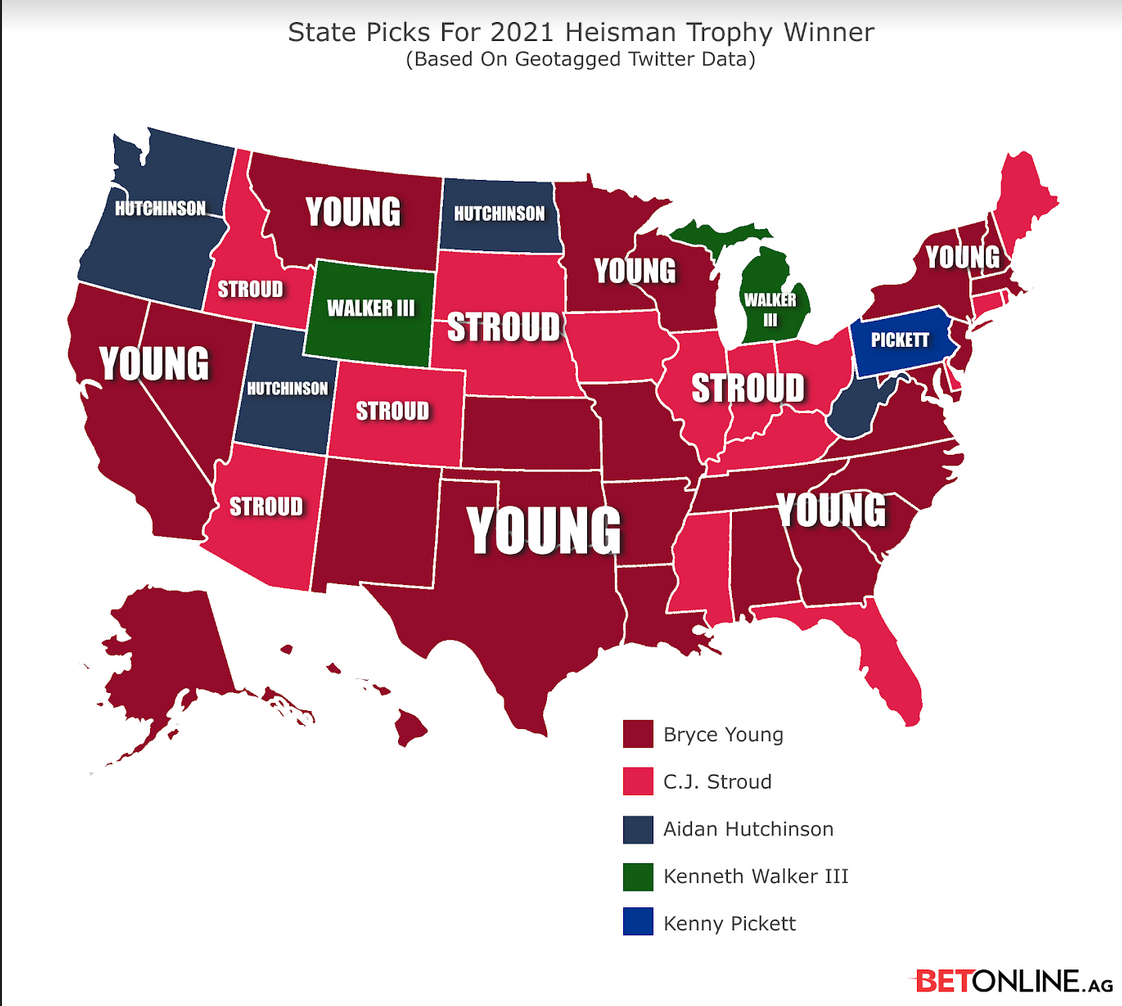 If Young does win, he'll become the third Bama player in the last seven years to lift the bronze statue.
The complete breakdown is as follows:
Bryce Young - 26 states
C.J. Stroud - 16 states
Aidan Hutchinson - 5 states
Kenneth Walker III - 2 states
Kenny Pickett - 1 state
Other players such as Matt Corral and Jordan Davis were mentioned, but did not win any states.
Young is currently a -210 favorite in the Heisman odds while Aidan Hutchison, not Stroud, is second on the board. Here's the full list with betting available here:
Bryce Young - Alabama                       -210    
Aidan Hutchison - Michigan               +550   
CJ Stroud - Ohio State                         +625   
Kenny Pickett - Pittsburgh                  +1400 
Will Anderson - Alabama                    +2000 
Kenneth Walker III - Michigan State   +2500 
Matt Corral - Ole Miss                        +2500 
Jordan Davis - Georgia                        +3300 
Desmond Ridder - Cincinnati              +5000