Who Would Have Thunk It: Larry King a Successful NFL Bettor
Published on:
Dec/10/2012
Larry King is killing it this season with his NFL bets!  Yes, THAT Larry King!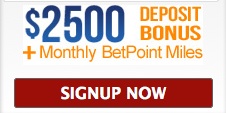 The radio and CNN icon now picks games on his new online show at Ora TV.
"Fourteen and two," King told Monte Burke of Forbes.com, in reference to his picks record.
"I've been on a run," King added. "I lost my two games really early on. I think I've won 11 in a row.
"I think there is such a thing as momentum in betting. I really do. I don't play cards, like blackjack or anything. But sometimes when I go to the horse track, I open up the racing form"—his eyes widen a bit as he pantomimes holding the form in front of his face—"and it's all so clear, so simple. Other times, I look at it and think 'oh my God,' and I can't find a winner."
And how does Larry King handicap NFL games?
 "I just look at the spreads and look for one or two that seem way out of whack. I'm a Dolphins fan, so I divorce myself from them."
- Dan Shapiro, Gambling911.com