It's our home stomping ground and nobody knows better the top hot spots for those attending the upcoming Daily Fantasy Sports Expo than Gambling911.com.  
Join executives from the Daily Fantasy Sports sector, casino operators (both online and land-based), venture capitalists and reporters.  DraftKings found Jason Robbins, Fox Sports, Forbes, Shamrock, Unibet, Tote Sports, Gambling911.com, Lisa Perry former captain of the Indianapolis Colts cheerleading squad on behalf of Gambling911.com, FanWars CEO, FastFantasy CEO Joe Brennan, Oppenheimer (maybe?).
First off, we know many of you will be ditching Day One 15 minutes early to head on out to watch the first Republican debate at 5 pm featuring Donald Trump.  Yours Truly just happens to be hosting a panel of legal experts until 5 pm, so I'll be right behind you all. 
Just a short trek across the street over to the world famous pedestrian walk of Lincoln Road sits Finnegan's Road Pub with plenty of televisions and what should be a reduced crowd with no major sporting events scheduled for that time.
Finnegan's has your typical pub fare and plenty of great tap beer flowing.  Oh, but it gets even better: Monday through Fridays is 2 for 1 on all drinks from 4 pm to 7 pm, right during the time of the debate. 
For a good place to chill in the early evenings near by the Convention Center, check out Meat Market on Lincoln Road. You can people watch outside or enjoy the chic indoor bar seating.
You want clubs.  The newest hot spot in town is House Night Club, located just across the causeway in downtown Miami. 
Scroll Down For More...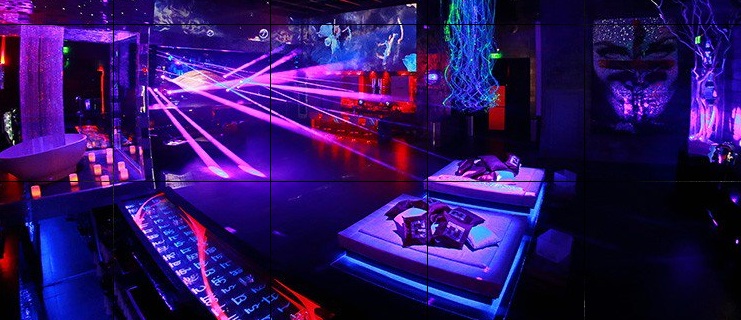 This spot is best Friday night, the final day of DFSE. Be prepared to expect the unexpected, open your mind, and succumb to your naughty desires. At HOUSE, they NEVER announcetheir celebrity HOUSE guests or DJs. This is a PRIVATE party, so show up and enjoy the s*** show!  WARNING: If you have an aversion to spanking, vibrators, grandmas, babies, feathers, or sheep – PLEASE DO NOT ATTEND.  Dress up, dress down or even come naked.  Just don't wear tennis shoes, shorts or flip flops.  You will want to RSVP.
Want to get away from the hustle and bustle of South Beach?  Head on up to North Beach just a few blocks down from our headquarters to Lou's Beer Garden.  Bring your bathing suit if you like.  The lounge offers some of the best craft beers in Miami proper with a cool scene outside by the pool.  "Bitches Drink Free" takes place 6-8 Sunday for those sticking around through the weekend (no description needed). 
For the best Italian dinner in down, check out the place where all the locals go: Café Prima Pasta, located at 70th and Harding, right down the street from Lou's.  On any given night one will spot local Matt Damon in his glasses.   Despite what others may have told you, there is simply no better Italian restaurant in all of Miami Beach.  Taxi fares are typically $15 each way to and from the host hotel.
If you do plan on staying for the weekend, you'll definitely want to check out some of the cool spots in both Midtown and Brickell.  These include Sugar Cane Raw Bar in Midtown near the art district for the best tapas in the area as well as some excellent drink options.  Try the dates wrapped in bacon.  YUM!!!
Blackbird Ordinary features the hippest crowd in Miami once you've had enough of the "strike a pose" crowd in South Beach.  Some excellent specialty drinks as well as the Loose Pony Punch Bowl: full bottle of Jim Beam Bourbon, Campari, pineapple, lemon, lemongrass.
Friday of the event will be Summer Lovin' Happy Hour.  Girls enjoy free drinks from 6-7 pm! Plus food by Chef Robert, Miami's Jerk Chicken Champion.  This place we hear overflows after midnights on weekends.
Enjoy your stay while in Miami Beach. 
- Chris Costigan, Gambling911.com Publisher