Mike Colbert Arrest a Black Eye for Nevada Gaming Control Board
Published on:
Oct/24/2012
As Nevada is set to begin legalizing online poker, it may also face a serious setback following news that M Resorts Sportsbook Director, Mike Colbert, has been arrested and charged on eight counts of conspiracy, money laundering and enterprise corruption.
Specifics of this arrest are forthcoming on Thursday 11 am ET as New York prosecutors are set to hold a press conference.  The investigation is being conducted by the Queens District Attorney's Office, long notorious for going after operatives of offshore sports betting businesses. 
None of this can be good for the Nevada Gaming Control Board, which prides itself on being "squeaky clean".  It should be noted that neither the M Resort or the sportsbook's parent company, Cantor Gaming, have been implicated as part of this investigation. 
Gambling911.com first got word Wednesday afternoon that there were some 40 arrests made (posted on Gambling911.com Twitter), originating in New York City, though details were scant.  The arrests are connected to Curacao-based PinnacleSports.com, which announced publicly it was leaving the US market in 2007 and has not accepted new online registrants from the States since that time.   Preliminary reports suggest that PinnacleSports.com was still utilizing an extensive network of agents working on a "credit" basis within the US proper.  Colbert's connection to the company is not yet known.  Pinnacle is widely recognized for being one of the "sharpest" oddsmakers in the world.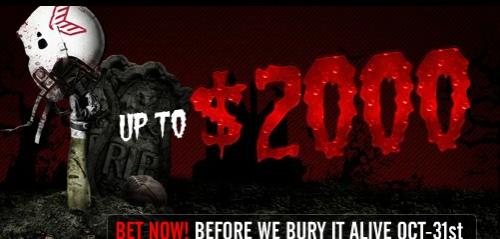 In addition to the M Resorts, Colbert oversaw nearly a dozen other sportsbook operations throughout Las Vegas including the Palms, the Palazzo at the Venetian.  The later hotel and casino is owned and operated by Sheldon Adelson, who is among the biggest donors to GOP Super PACs.  Adelson himself has not been named in connection with the investigation based on preliminary reports.    
In recent weeks, Colbert has been outspoken regarding New Jersey's attempts to legalize sports betting in that state.  He also questioned why the professional sports leagues like the NFL have filed suit against the state.
"I don't think the leagues have a good argument," he recently told Sporting News.  "In fact, I don't even know what they're argument really is. They're going to say that it compromises the game. That doesn't make any sense. For them to even put that out there is an embarrassment. I think there's an underlying reason."
Colbert also suggested the Leagues have their own agenda in wanting to prevent New Jersey and other states from offering sports wagering.
"In my opinion, the reason is that they want a piece of the money. They're not going to let people bet on the NFL in Jersey without the NFL getting a piece of the pie. They're going to hold out and create a problem until they figure a way to get a piece of the money."
Colbert is currently being held in a Las Vegas detention center.
Not The First Time Operatives Connected With Cantor Have Run Afoul of US Laws
Cantor has had a most interesting involvement in the world of online gambling as Gambling911.com first reported back in 2005.

In the true life stranger than fiction category, Cantor Fitzgerald Securities and its subsidiary eSpeed network are one for the books, reported Judi McLeod & David Hawkins for the Canada Free Press back in July.  

Cantor Fitzgerald's New York office, on the 101st-105th floors of One World Trade Center, lost 685 employees in the September 11, 2001 terrorist attacks more than any other employer. Its e-Speed electronic bond-trading network lost 125 souls.



Happily for the disciples of "Kyoto Mo" (Canadian Maurice Strong), who argues that global climate change is driven by anthropogenic gases emitted by inhabitants of the Anglosphere, a six-member eSpeed carbon-credit trading team escaped death. Their annual one-day fishing trip had to be cancelled about 8 a.m. on the fateful morning of September 11, due to alleged bad weather over the Atlantic. Can anyone confirm the weather? New York looked pretty sunny.

Hearing that the Twin Towers had been hit, the six lucky fishers hightailed it to New Jersey, to what Joseph Noviello, executive vice president said of Rochelle Park, N.J., "where we had duplicates of everything that was destroyed at our offices in the world Trade Center." 



Not only did the six execs happen to have a WTC duplicate to turn to, but by napping on the floor, including one who grabbed shuteye by resting his head on an overturned coffee cup, they got an electronic trading operation up and running within two days of the tragic events.



Almost four years after 9/11, this bizarre birth of the Cantor-eSpeed electronic trading operation seems to have morphed itself into Kyoto Mo's "Global Hub for Carbon Commerce", Judi McLeod & David Hawkins explained.


In late-May 2005, six executives of Cantor Fitzgerald were among 36 arrested in gambling raids on the illegal Safe Deposit Sports gambling ring, in New York.
In this words of one industry luminary:  "This is not going to end well". 
- Chris Costigan, Gambling911.com Publisher