Macau Gambling Magnate Stanley Ho Recovering
Published on:
Aug/15/2009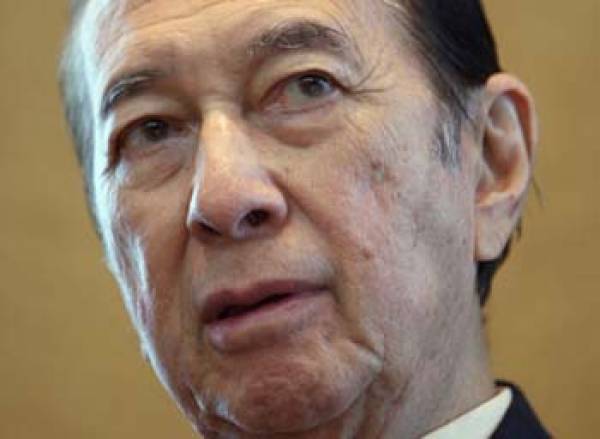 Rowan Callick, The Australian
THE most colourful of the Asian godfathers is recovering in Hong Kong's Adventist Hospital after brain surgery to remove a blood clot following an accident at home.
Aged 87, Stanley Ho is as tough as they come. Until being laid low recently, he still played tennis and enjoyed ballroom dancing -- tango, cha-cha and waltz his specialities.
Although he refuses to talk about the succession, his dynasty is inevitably starting to come into play, with repercussions that roll down to Australia, and especially for the head of one of our great dynasties, James Packer.
Ho has over the years pressed more than $1.6 million on both federal and NSW Labor branches, although much of it was returned.
In Southeast Asia, some of the great family businesses -- virtually all of them Chinese -- are surviving as going concerns. But they are fading fast from the front ranks of business in Hong Kong, Macau and elsewhere in east Asia. After World War II, family business fortunes were built rapidly as the region took off economically. Today, the average Hong Konger earns more than the average Australian.
But new dynasties headed by a single charismatic founder are not emerging as they did in that golden growth era.
This is instead the day of the committeeman, the network builder, the state-owned enterprise -- just as in Chinese politics, the charismatic leaders have been replaced by the technocrats. Joe Studwell, the author of Asian Godfathers, points out that while many have in the past generated myths about their prodigious talents at accumulating wealth -- such as Li Ka-shing, who is widely known in Hong Kong as Superman -- "at the heart of the average godfather's empire is a concession or licence that gives rise to monopoly or oligopoly activity".
None more than the empire of Stanley Ho, whose second and greatest fortune derived from casino licences in Macau, granted first by the Portuguese and now by the Chinese since the territory reverted to China a decade ago. His great-uncle, Robert Ho Tung (1862-1956), whose father was Dutch-Jewish and mother Chinese, became head comprador of one of the great trading houses of Hong Kong, Jardine-Matheson, still a large enterprise today. 

Ho was born in Hong Kong in 1921 and was educated at Queen's College. But then his father lost much of his fortune during the aftermath of the Great Depression, and Ho won a scholarship to enable him to attend Hong Kong University. 

During World War II, he shifted from Hong Kong, which was occupied harshly by Japan, and headed west across the Pearl River delta to Macau. 

Ho's first fortune came from smuggling luxury goods across the border with China, and running a kerosene factory. Smuggling remains a widespread enterprise, especially in southern China, because of the high levels of import duties, which mean that many sophisticated consumer products are considerably more expensive in China than elsewhere in the region. 

He continued to trade after the war, and, like most Chinese people with any money, he also moved into real estate. 

Then, in 1962, came the bonanza. He linked up with fellow tycoon Henry Fok, who enjoyed great kudos in China for smuggling oil, weapons and medicines in defiance of a UN embargo during the Korean War, and who had been rewarded with a monopoly on importing sand from China into Hong Kong during its 1950s building boom. 

Fok helped fund Ho's bid for the Macau gaming monopoly. They won, and Ho expanded the business, incorporating into the Empire Hotels, where gamblers stayed, and jetfoils that transported them from Hong Kong, where gambling remains banned except on horseracing. The Sociedade de Turismo e Diversoes de Macau, which runs the casinos, lost its monopoly in 2001, the year after Macau returned to Chinese control. But the loss of the monopoly did not prove to be the anticipated disaster for the Ho dynasty. Instead, the competition generated by the rapid influx of new American money from Las Vegas and ritzy new casinos, combined with an acceleration in the Chinese boom, brought so much more money into Macau that the Ho establishments, including 17 casinos, did better than ever. Today his businesses account for about a third of Macau's entire gross domestic product. 

By 2006, Macau had superseded Las Vegas as the biggest centre of gambling in the world. This meant that there was more money to go round. And the family rivalries began to grow ever more bitter. Ho's great-uncle Robert had 12 wives and more than 30 children, including Grace Ho, the mother of kung fu hero Bruce Lee. Ho himself maintained that fecund tradition, with four wives -- simultaneous rather than consecutive -- and at least 17 children. 

But his younger sister, Winnie, has launched more than 30 court cases against him, claiming she has been cheated out of her share of the business that she helped develop. She has written an autobiography, Struggling with the Devil, that focuses on those clashes. His tough, businesslike daughter Pansy, 40, is the managing director of Shun Tak Holdings, which controls most of the empire's infrastructure, including its fleet of jetfoils that rush gamblers between Hong Kong and Macau. She is also a director of core casino operator STDM, and the local partner in a joint venture established with American billionaire Kirk Kerkorian's gambling giant MGM. 

But two months ago, following a four-year investigation, casino regulators in New Jersey said she was an "unsuitable" partner for MGM and recommended that the company disengage from its Macau partner -- but without explaining, although at the start of the investigation the state's attorney-general had said it focused on the relationship of Pansy with her father. But regulators in Nevada and Mississippi have cleared the joint venture. 

Pansy appears to be the most likely ultimate successor to the Ho empire -- if it can be kept intact after the many claimants on it have signed off. Pansy's younger brother Lawrence, 34 -- they are both children of Ho's second wife Lucilla -- is a partner with Packer's PBL in Melco Crown Entertainment. The Victorian regulators signed off on Lawrence Ho's participation after his father resigned as chairman. 

The issue constantly causing trouble for the family is the suspicion of links with organised crime in the shape of triads, which Stanley Ho has always strenuously denied, and for which no firm evidence has yet been presented publicly. 

But the Singapore government was concerned enough to block Ho's participation in the Genting Group, which was awarded a gaming licence there. In 2006, lawyer and Democratic Party politician Albert Ho was attacked as he left a McDonald's restaurant in Hong Kong, where he was at the time appearing for Winnie Ho in one of her many cases against her brother. 

But Ho is also viewed as a stabilising force in the occasionally wild underworld of Macau. University of Macau political scientist Eilo Yu says: "He's a figurehead and people respect him, so you don't see so much trouble in the casinos right now." 

A Royal Canadian Mounted Police report branded Ho as a triad leader. And Australia, as well as Canada, has blocked casino investment proposals -- although he was earlier a part-owner of casinos in Hobart, Launceston and Darwin. He failed to win consideration for a role in operating Star City in Sydney. 

As the Labor government began considering issuing a second casino licence for Sydney, a Gold Coast-based company that Ho controls, Hungtat Worldwide, donated $600,000 via the NSW branch, with which he appears to have been most familiar. But it was returned because, general secretary Matt Thistlethwaite said, it was not needed. His fourth wife, Angela Leong, sent $499,980 to the federal party. But it was returned, said national secretary Nick Bitar, following "a due diligence assessment". 

Ho, who owns property in Australia, personally declared a $200,000 donation to the NSW party, although the branch reported that it received $400,000. And Anthony Chan, a director of Ho's Shun Tak, gave $100,000 to the NSW branch in two instalments. 

In 2006 he paid $48,000 to party funds in return for a lunch with then premier Morris Iemma. He also launched a plan to redevelop Beijing's famous Friendship Store for about 4billion yuan ($905 million), with Ian Tang, a mysterious Australian-Chinese business figure. Tang was a generous donor to Australian politicians, paying for their visits to China, including a visit by Kevin Rudd, who spoke at the launch of the Friendship Store development. But more than three years later, no work has begun on site and it appears that the deal has collapsed. 

What has driven Ho's political generosity? Almost certainly, it has not been ideological, since he has not indicated any political commitment -- beyond a general leaning towards the Chinese Communist Party and support for its insistence on a slow pace for any democratisation in Hong Kong and Macau. It appears to be simply a matter of influence -- not necessarily seeking an immediate return, but providing the option of a favour down the track. Thus, his willingness also to do favours for Beijing, such as buying back treasures looted by British and French troops from the Old Summer Palace in 1860. 

Facilitating the ultimate dispersal of his fortune, Ho eventually succeeded in listing the operating arm of his casinos and hotels, Sociedade de Jogos de Macau (SJM). But the timing was terrible, with share values slumping in the global downturn, and with the Chinese government deciding to restrict the number of visas allowed to be given to visitors from mainland China, in order to cut back on the many widely circulated scandals about government funds being bet on the tables of Macau. 

And 93 per cent of gamblers in Macau now come from mainland China. But the Macau authorities last year handed Ho back a huge boost by declaring a moratorium on new casinos "for the near future" at least. 

Nevertheless, Ho sank from the world's 113th richest billionaire in 2008 with $US8 billion, to 701st this year, his worth valued at just $US1 billion. But he could still manage to afford, at the end of 2008, to pay $300,000 for a giant Italian white truffle.