"I am sure you are wondering...what on earth did it take to get my CAP Euro ban lifted? Seducing (Michael) Caselli. Easy!" harked Rebecca Liggero, the popular representative for Casino City Press, whose imposed ban at the Casino Affiliate Programs (CAP) London online gambling affiliates event drew heavy criticism from fellow affiliate partners.
Actually, seducing co-organizer Caselli is one of the easiest methods of getting into one of these events, even if they are free.
Liggero didn't really seduce him though as it turns out.
"It was largely due to Alex Pratt (another co-organizer of the CAP event), one of my very good friends who helped smooth out some of the tension between CAP and GPWA during this London event. Thanks to Alex, some of the love is back, and now I can freely write about my positive experiences in London, including ICEi, CAP Awards and CAP Euro London. Enjoy!"
The Gambling Portal Webmasters Affiliation (GPWA) and Casino Affiliate Programs have been involved in a high profile feud in recent weeks, brought on by accusations that some CAP execs were somehow running a "rogue" online poker room, CardSpike.com.  The war of words nearly culminated into a physical altercation in the lobby of the West London Novotel Hotel where the CAP event was being hosted.
Lou Fabiano, CAP co-organizer, challenged J. Todd of the GPWA, to a fight outside while hotel security were allegedly ordered to "rough up the son of GPWA President, Michael Corfman.
"It wasn't that bad and everyone was happy by the time the event had ended," Caselli told Gambling911.com.  "There was no such thing as a 'CAP Army'," making reference to the suggestion that CAP hired its own security people to "beat up on attendees".  Caselli insisted the whole incident was blown out of proportion and everyone was eventually allowed into the event.
Additionally, Liggero enjoyed a hot steamy time with the folks from Rome Casino, a Sparky Collins fav.  Sparky is Gambling911.com's resident Cuban transgender reporter who arrived in Miami via an inner tube from his native Cuba.  Sparky was once a soldier in the Cuban army, who fought against South Africans in Angola. 
"Over sushi, I learned new ways to make money," Liggero says of her meeting with Josh, Affiliate Manager for Rome Casino.  "I learned all about designer suits- Alfani? Dolce Gabbana? Prada? Versacci? And I learned the best way to break things off with a boyfriend."
"Did Josh share with you any of his sushi?" a curious Sparky Collins wanted to know.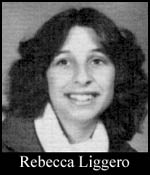 Ms. Liggero (photo circa High School year book as an innocent Catholic School girl) confirmed that a meeting between CAP officials and the GPWA did not result in any furniture being thrown across the room.  In fact, it was quite cordial.
"I can tell you that no one raised their voice (ok, maybe just a little), nothing was thrown across the table, no one was ejected, and no one was brought out in a stretcher. A step in the right direction if you ask me, right?"
But for Liggero her hormones remained in overdrive while the boys released their testosterone early on in the lobby.   It seems Rebecca had enough of a sex drive to cover the next 10 CAP and GPWA events combined.
From elbows flying to bouquets being tossed at a wedding?  Could this be possible?
"If all else fails, Alex (Pratt) and I agree to get married, just so we can show the love between the two companies."
Jenny Woo has agreed to play the organ at their wedding. 
"And the skin flute," a yealous Sparky inserted. 
Christopher Costigan, Gambling911.com Publisher