Gambling911.com's favorite Cuban transgender reporter, Sparky Collins, is about as all Cuban as he is all man.  Grampa Collins it turns out was 100 percent Italian.  So what better online casino to have Sparky test drive first in our new series of online casino reviews than the Rome Casino? 
Sparky's immediate observation:
"The girl they have on their home page, that a man!" he proclaimed in his thick Cuban accent.
Good observation.
Get a little deeper and the exploration into Roman enchantment becomes more revealing in this homo-erotic online casino where Romans clad in nothing but togas welcome new customers with 200 percent signup bonuses.  Oh forget the Romans clad in their togas.  This online casino pretty much drops the Roman theme once you get past the shemale with the chrome wig.
What games does Rome Casino offer?
Rome Casino offers many games, the website claims.  None having to do with Rome though.
You will find a fair number of fruity slots at the Rome Casino.
Rome Casino's video slot offering features a bunch of bananas and strawberries.  This despite the fact that bananas and strawberries were not staple fruit during the time of the Roman Empire.  Evidence of this: The Garden Strawberry was first bred in Europe in the early 18th century. As late as the Victorian Era, bananas were not widely known in Europe.
ludi scaenici and ludi circenses were overlooked apparently as well. 
As any student of Roman history can tell you, these are the two centerpieces of that period and there is not one mention of either throughout the Rome Casino.  Not one!!!!
The ludi scaenici, the theatrical performances, were hopelessly overwhelmed by the ludi circenses, the circus games.
The gladiator games were the most spectacular, but none of the casino games offered by The Rome Casino have a gladiator theme, Sparky reveals.
 "It was I know the ludi circenses of the amphitheatres which have given the Romans bad press over time but it makes them what they are, Savages.
"
That is not to suggest this gay-friendly online casino is run by barbarians.   Top Game, which developed the software, welcomes dominant and submissive players alike, all genders, all life styles.  There is no discrimination here.  Greeks are strictly prohibited from playing at the Rome Casino however. 
Though perhaps not the originator of the practice, the emperor Nero appears to have been the first Roman emperor to marry a male. Of the first twelve emperors only Claudius was exclusively involved with women. All others took either boys or men as lovers.  None of the empires are represented among the games, much to Sparky's chagrin.
The customer support must be Roman too.
[01:33] (Sparky43) ima looking for a site that seels amp.  What game mood error message?

[01:35] (Marco The Gladiator) how bout you look for a site that teaches inglish?
[01:35] (Sparky43) f**k you
[01:36] (Marco The Gladiator) Hold
[01:36] (Sparky43) Hold what?
[01:41] (Marco The Gladiator) Please allow me 4-5 minutes so I provide you with further information in this regard.
[01:41] (Sparky43) And I am the one needing to learn English Brotha?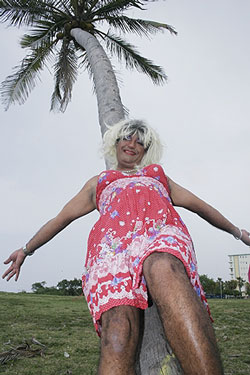 The Rome Casino classic casino slots features a game called Russian Attack 3 Lines, which makes about as much sense as Sparky's botched rendition of American national anthem. 
"Oy yay can u yee." 
Julius Caesar does not seem to have minded being described as 'every woman's man and every man's woman' and the Emperor Hadrian set up monuments to his dead lover Antinous all over the Empire.  Yet all we get at the Rome Casino is a bunch of generic fruity slot games.
"No Caesar, no Antinous, not even a slot game for Count Caligula," says Sparky, who lost playing the fruity slots. 
Caligula revived the treason trials of his predecessor, Tiberius, opened a brothel in the palace, raped whomever he wished, reported on the woman's performance to her husband, committed incest, killed for greed, and thought he should be treated as a God.
"I feel I get raped at this online casino Brotha!" Sparky ejaculated. 
The Rome Casino does allow for multi-table games with multi-partners.  As such, one can play multiple games in a single setting all at once, though that takes some concentration and stamina.
One distinction between this and most other online casinos:  The Rome Casino is one of the only online casinos that accepts American Express.  Go figure.
Rome Casino is the first licensee of a new software platform called Top Game.
Conceived by some of the same designers behind software pioneer, Playtech, Top Game has the potential to be successful in a very competitive market.
"When offering a online casino theme you must adhere to culture and history," said Sparky.
In the same sense that Sparky is naturally smooth (no body hair), the Rome Casino is naturally based in Rome, Italy.
NOT! 
Grade:  C-
Watch for Sparky's next online casino review in Gambling911.com's new series.
Gambling911.com Online Casino Reviews Staff