Las Vegas Hotel Rates January 2012: South Point $51 Per Night
Published on:
Dec/31/2011
It's a little nippy in Las Vegas this time of year, but the Las Vegas hotel rates for January 2012 are super hot.  Case in point, the four-star South Point Hotel has slashed its average night rate from $64 to $51 during the first two weeks of the month. 
Most of the four-star Strip hotels were running $59 and up.  The Hard Rock was at $60 per night while the MGM was $109 per night.
Penny pinchers can stay for as low as $29 per night at Hooters or even $25 per night at the Imperial Palace, but don't expect the same amenities as a four-star property.
These Las Vegas hotel rates were available only the first week/weekend following the New Year's holiday in January.  Hooters, for example, jumped back up to $132 per night during Week 3.  Rooms were hard to come by during this period as we would assume there is a convention in town.  South Point did not even have rooms available certain nights. 
A sampling of rates from the 18th to 23rd showed South Point at $78 per night while, the MGM $89 and the Mirage at $125.  Caesars Palace was averaging just over $200 per night.   
South Point's rates drop back down to $69 per night the final week in January.  The Monte Carlo was $82 per night on average that week while MGM was just over $100 per night.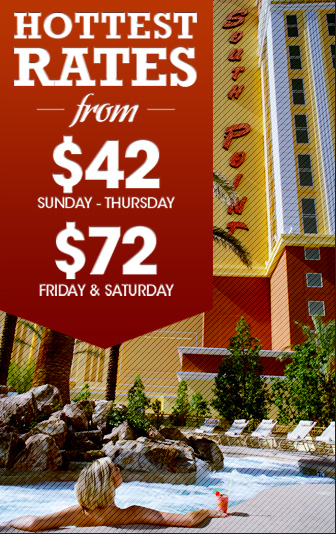 Win a FREE seat a week worth $10,000 to the biggest poker event on earth - "The Main Event" next July 2012 in Las Vegas Nevada.  South Point Casino in Las Vegas is offering this chance as the first Vegas-based casino operator to launch a free-to-play online poker site for those living in the US and around the world.  Tons of free cash prizes awarded daily as well. 
Simply download our free software here and enter one of their Daily Qualifiers for Free right here at www.SouthPointPoker.com. Free Qualifiers are running Each and Every day between now and the Main Event 2012.  Because the South Point Poker Online website is relatively new, your chances of winning a seat are quite high. 
All you have to do is check the tournament schedule under the "Win Prizes" tab in the lobby by hitting the Play Now Button and downloading our Free safe and secure software, find the South Point Main Event Tournament, register, play and if you win, you will be invited to come to the South Point Poker Room to play live against 8 other qualifiers for the $10,000 seat.
Daily winners will receive two nights FREE room accommodations while at the South Point Hotel, Casino & Spa, but you must arrange your own travel to Las Vegas to play.
- Payton O'Brien, Gambling911.com Senior Editor