Lance Armstrong Cost Bookmakers, Bettors Untold Amounts
Published on:
Jan/16/2013
Lance Armstrong's seven consecutive Tour de France title "wins" cost bookmakers and bettors alike hundreds of thousands of dollars, though the exact figure may never be known.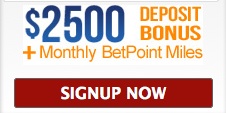 Armstrong was such a huge betting favourite during the period 2000-2005 that Irish bookmaker Paddy Power created a separate market for the disgraced cyclist. 
"Our cycling traders said forty percent of all outright (Tour de France) bets were on Armstrong, which is a remarkable percentage considering his odds were so short," Mac An Iomaire said. "It's safe to say we suffered during his run."
England's biggest bookmaker, William Hill, witnessed similar business during Armstrong's peak popularity.
"Over the years, Armstrong cost us a lot of money," said William Hill spokesperson Joe Crilly. "Despite the relatively prohibitive odds, punters backed him unflinchingly and well over half of all Tour de France bets that we took in the period of Armstrong's dominance were placed on him."
Ladbrokes claims that Armstrong cost that book at least £100,000.
The cyclist confessed to doping during a pre-taped interview with Oprah Winfrey set to air Thursday at 9 pm ET and Friday at 8 pm ET on the media maven's OWN cable network.
- Don Shapiro, Gambling911.com