England's largest bookmaker, Ladbrokes, is the latest to be cited by the rigorous Advertising Standards Authority.  The ASA determined its latest ad must be banned after only a single complaint.
The spoof ads show thrill-seekers leaping from a plane with a crisp packet for a parachute or dressing up as a seal in shark-infested water.
The bookmaker says they should instead "Quench their thrill buds" by betting on its website.
The ASA ruled the advertisements linked gambling to "reckless behavior".
But Ladbrokes' John O'Reilly said: "This is political correctness going too far."
This is not the first time a gambling company has come under fire by the austere agency for "improper ads".
Ireland's biggest bookmaker, Paddy Power, has been cited on more than one occasion for linking sexual prowess to gambling, including an ad featuring dwarfs in compromising positions.  Intercasino was once cited for featuring Jackass-like stunts in its ads, also featuring little people. 
The Advertising Standards Authority also banned a controversial ad campaign for ThePool.com, the gambling company attacked by the culture secretary, Tessa Jowell, which encouraged underage gambling.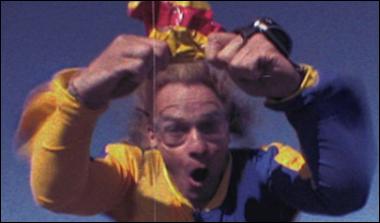 That campaign - a leaflet, an ad in the free newspaper Metro and an ad in lads' mag Zoo - used lines such as "BANNED - Find out what they don't want you to know" and "Why wait 'til 18? Bet at 16".
Images of scantily clad women also featured in the campaign, but the ads did carry a "not under 15" logo and text stating "players must be 16 or over".
Christopher Costigan, Gambling911.com Publisher