Jenny Woo Preps for Punta Cana Poker Classic
Published on:
Nov/08/2010
The gang from Gambling911.com, including Senior International Correspondent Jenny Woo, are on their way to Punta Cana, Dominican Republic, for a one-week excursion to cover the much talked about Punta Cana Poker Classic.
The Punta Cana Poker Classic 2010 is a $100,000 Guaranteed Texas Hold'em event being held at one of the best resorts on the exclusive and heavenly beaches of Punta Cana, Dominican Republic.  Among those who will be in attendance:  Doyle Brunson and his entire family.  Woo voted Brunson "Most Sexiest Poker Player" two years straight and is referenced in his latest book "The Godfather of Poker".
The Hard Rock Hotel and Casino, where the tournament will be held, just opened last week. 
En route to the Dominican Republic, Ms. Woo, a Miami Beach socialite who has "dated" the likes of Vin Diesel, Dennis Rodman and David Navarro, spent some time catching up with old friends in her old stomping grounds of Miami Beach, Florida (home of Gambling911.com).  She presently resides in Pensacola, Florida, or, as she likes to call it, LA (Lower Alabama).
"It's been more than nine months since I left Miami Beach and is so great to be back," Woo commented.
Of course her trip was not without incident. 
Her first night out was spent having dinner at Miami Beach's fabulous new restaurant Eden, at 23rd Street and Collins Avenue. Behind the restaurant is a team that includes Kelley Jones, partner in Todd English's P.U.B. Las Vegas, and James Beard award-winning chef Christopher Lee of Charlie Palmer's Aureole in New York.  After a few bottles of win, our Jenny Woo christened the brand new bathrooms (we won't get into the explicit details).  The lamb chops and ravioli appetizer were delicious by the way. 
Her second night out was spent chasing guys, of course.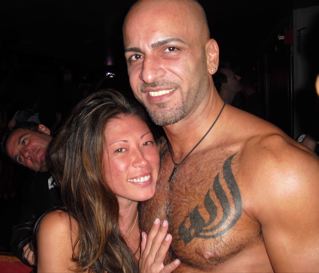 Punta Cana Poker Classic Agenda
The event is sponsored by our friends at TruePoker.com.
Tuesday, November 9 – Arrive.  Meet at bar.  Dine at Zen Restaurant for Teppanyanki style dinner.  Drinking.
Wednesday, November 10 – Meet for drinks.  Players begin arriving.  Head to bar.  Welcome Cocktail "Dominican Night at the Eclipse Terrace, on the main lobby and reception area.  Raffles.  More drinking.
Thursday, November 11 – Head to bar.  Poker tournament begins.  Those who arrive before 3:40 pm for registration to the tournament receive 10% in extra chips.  Meeting at the Sun Bar then off to some night club action outside of the resort to drink with locals. 
Friday, November 12 – Open bar in the morning.  Poker tournament resumes.  Cash games continue.  Get sloshed with Jenny Woo.  "Second Chance" event starts with buy-in $345 and packages to the Costa Rica Invitational March 2011.  Head to bar.
Saturday, November 13 – Breakfast and cocktails.  Final table of the Punta Cana Poker Classic.  Awards given out.  Poker cash games and Omaha action.  Final table begins.  Drinks served afterwards.  Party to be announced. 
Sunday, November 14 – Departure of players.  Exit drinks served.  Bar closes.  See you all next year.