Former Manchester United Winger: 'Gambling Plunged Me Into Serious Debt'
Published on:
Sep/25/2013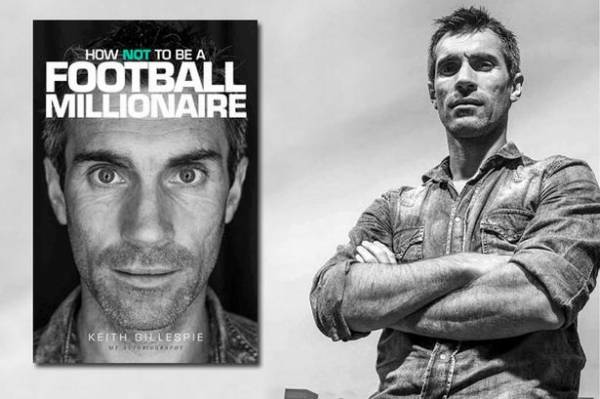 Excerpts have been released from ex-Manchester United winger Keith Gillespie's new book "How Not to be a Football Millionaire".
In it Gillespie describes how he blew his gambling addiction began with £1 flutter and ended up costing him £7,215,875.
Here is a portion of what Gillespie writes:
I doubt that anyone who crossed my path would describe me as a clean living, model pro.
I liked a drink, learned to smoke, and swear by an unhealthy diet.
I've read what alcoholism did to footballers such as George and Paul McGrath, and I'm grateful to have avoided the affliction of that terrible disease.
This man was susceptible to other urges. They didn't cost me my health, but they almost cost me everything else.
How much money did I blow?
One afternoon, I figured it out.
It's the closest I've come to therapy... until I realised that I actually needed therapy.
Working out the bonuses was the hard part - the signing-on fees, the appearance money, the inducements.
At Newcastle, we received £50,000 a head for coming second in the league, which was huge money in 1996.
By the time I moved onto Blackburn, the globalisation of the Premier League had inflated the wages and the incentives. We earned £1,500 per league point, so two wins on the trot could be worth an extra £9,000.
And if you scored a few goals along the way, it helped.
So, the calculations took a while.
Eventually, we reached a club by club consensus. It went like this...
Manchester United £60,000
Newcastle £1,102,000 (plus £250,000 in bonuses)
Blackburn £3,510,000 (plus £400,000 in bonuses)
Leicester £1,050,000 (plus £40,000 in bonuses)
Sheffield United £670,000 (plus £75,000 in bonuses)
Bradford £15,000
Glentoran £43,875
Total £7,215,875
A substantial amount of cash, eh?
And that's only a conservative sketch of the incomings. It doesn't include boot deals, promotional appearances, Northern Ireland match fees, libel settlements and all the other elements that come with the territory.
Gambling emptied my pockets.
You can read more excerpts from the Mirror here.
- Alistair Prescott, Gambling911.com