Floyd Mayweather Wants to Buy LA Clippers: Gambling Rep Could be an Issue
Published on:
Apr/30/2014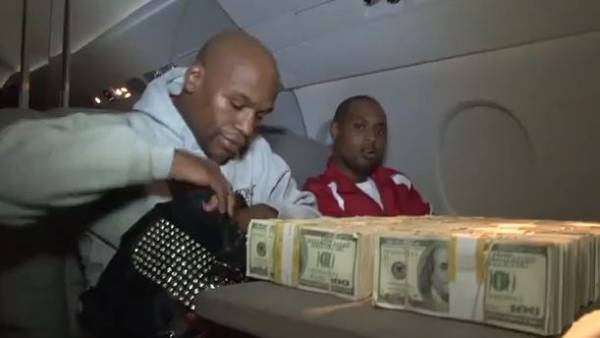 WBC Welterweight champion Floyd Mayweather Jr. said Tuesday that he would like to purchase the NBA franchise LA Clippers. 
Mayweather, a regular at Clippers games, made the comment during a press conference while in Las Vegas.
He's not there to gamble, though he very well may.
The fighter is known for his heavy wagering on major sporting events and, alas, that reputation could get in the way of any attempts to purchase the Los Angeles franchise.  Like all US professional sports leagues, the National Basketball Association frowns upon sports betting.
"Once I get ownership in the Clippers I can no longer bet, so I have to stop that completely," Mayweather acknowledged.
It's no secret that NBA great and now owner of the Charlotte Bobcats, Michael Jordan, was once a big time gambler as well. 
Current LA Clippers long time owner Donald Sterling is being forced to give up the team following a lifetime ban resulting from a taped racially charged conversation he had with a former mistress.  
The WBC Welterweight champ said he had already spoken with his adviser, Al Haymon, about teaming with Mayweather Promotions chief executive Leonard Ellerbe, Golden Boy Promotions chief executive Richard Schaefer, regarding a bid on the Clippers.
"I called Al about that to see if me, Leonard and Al, and hopefully Richard and a couple of other guys, a couple other of my billionaire guys, we can come together and see what we can come up with," Mayweather said. "Hopefully, we can do it, and it's not just talk.
"With me, I can't come in talking about Mayweather only gonna get 3 percent, 4 percent. I got to get a solid percentage. Do we want to buy the Clippers? Yes, we do. We are very, very interested in buying the Clippers. We'll keep the Clippers right where they're at. When I'm not boxing, I'm at the games all the time. We do want to buy the Clippers. . ..  and we can afford the Clippers."
Mayweather, who is African American, also spoke positively about Sterling during Tuesday's press conference.
"Donald Sterling, he's been getting a lot of negative press and my thing is this–I don't have nothing negative to say about this guy," Mayweather said. "He's always treated me with the utmost respect. He has always invited me to games, always. Has always told me, 'Floyd, I want you to sit right next to me and my wife.' I don't know about the [alleged] mistress. But I'm talking about him and the wife."
- Don Shapiro, Gambling911.com