Bill Maher on Internet Gambling Zealot Jon Kyl: "In a World of Political Liars, Kyl Takes the Crown"
Published on:
Apr/12/2011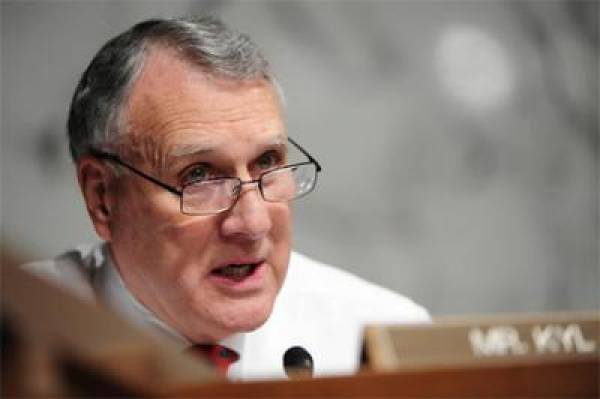 Appearing on Tuesday night's Rachel Maddow Show on MSNBC, comedian Bill Maher blasted online gambling's biggest opponent, the outgoing Republican Senator from Arizona, Jon Kyl.
Discussing Planned Parenthood, Maddow mentioned how Kyl claimed "90 percent of what that organization engages in is abortions".  She clarified by pointing out that only 3 percent of what Planned Parenthood does relates to abortions.
Kyl's office also later attempted to clarify what the Senator said by suggesting Kyl did not intend his statement to be taken as factual.
Maher said, sarcastically:  "Jon Kyl is free to have a little license with the facts, 3 percent vs. 90 percent.  In a world of political liars, Jon Kyl takes the crown.  He hit an 8-run homer with that one.  Jon Kyl is a hippie, an artist.  I don't know what to say about these people."
Kyl has also said about online gambling, it is the "crack cocaine of gambling" and "easily accessed by children using their parents credit card".
First off, the vast majority of Internet gambling companies have long incorporated stringent protocol to prevent minors from placing real cash bets online.  They must be able to provide a credit card and other forms of documentation that are required for obtaining a credit card in the first place.
Should a child somehow get a hold of his or her parents credit card, Gambling911.com has long questioned why Senator Kyl's concern is more with that child playing Internet casino games as opposed to the actual theft of that card from his or her parents.   
In October 2006, Kyl, with the help of then Senate Majority Leader Bill Frist, helped push through legislation to prohibit online gambling in the United States after eight years of failure.  The new law effectively forced banking institutions to block transactions related to the activity, though the banks immediately countered that such a measure was an "unfunded mandate" and "impossible" to implement.  Making matters worse, Kyl insisted on including exemptions for horse racing, state lotteries and fantasy sports, each of which align themselves with powerful Washington special interest groups. 
The Unlawful Internet Gaming Enforcement Act (UIGEA) passed as a result of being tacked onto an unrelated Port Security Act during the waning hours of the 2006 Congressional session (the lame duck session followed but few believed any meaningful legislation would have been passed during that period). 
The industry breathed a sigh of relief when it was recently announced that Jon Kyl would not be seeking another term in the Senate. 
- Christopher Costigan, Gambling911.com Publisher
As always, you can Follow us on Twitter for all the latest breaking gambling news. (around the clock gambling news)
Also be sure to catch Gambling911.com Video Segments with our very own Jenny Woo from the G911 Pensacola, Florida studio – this week, discussing the Royal Wedding betting odds here.