Will Any Quarterback Have a Reception Super Bowl Prop Bet Payout?
Published on:
Feb/11/2023
Will any quarterback have a reception?  The Yes pays out $75 for every $10 bet or $750 for every $100 bet.   It is the second biggest liability at BetOnline heading into Super Bowl 2023.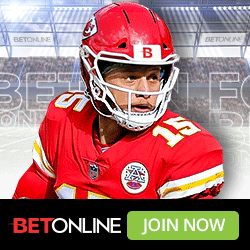 Remarkably, it was the Eagles whose quarterback did have a reception a few years back in 2018.
That Super Bowl trick play against the New England Patriots was known as "Philly Special" late in the second quarter of that game when quarterback Nick Foles caught a pass from wide receiver Trey Burton.
The odds of Patrick Mahomes doing so are slim to none with his ankle injury however.  Jalen Hurts probably won't be needed as a pass-catcher either.
Exact Reception Prop Bets - Super Bowl 2023
Rot     JuJu Smith-Schuster (KC) Exact Receptions     Moneyline
7101     1 or Less         +375
7102     Exactly 2         +350
7103     Exactly 3         +350
7104     Exactly 4         +400
7105     Exactly 5         +650
7106     6+         +600
Must Play
Rot     Isiah Pacheco (KC) Exact Receptions     Moneyline
7111     Exactly 0         +550
7112     Exactly 1         +250
7113     Exactly 2         +250
7114     Exactly 3         +375
7115     4+         +450
Must Play.
Rot     Marquez Valdes-Scantling (KC) Exact Receptions     Moneyline
7121     1 or Less         +260
7122     Exactly 2         +300
7123     Exactly 3         +300
7124     Exactly 4         +500
7125     Exactly 5         +1000
7126     6+         +900
Must Play
Rot     Jerick McKinnon (KC) Exact Reception     Moneyline
7131     1 or Less         +375
7132     Exactly 2         +325
7133     Exactly 3         +325
7134     Exactly 4         +450
7135     Exactly 5         +650
7136     Exactly 6         +1200
7137     7+         +1100
Must Play.
Rot     Travis Kelce (KC) Exact Receptions     Moneyline
7171     4 or Less         +475
7172     Exactly 5         +600
7173     Exactly 6         +500
7174     Exactly 7         +475
7175     Exactly 8         +500
7176     Exactly 9         +700
7177     Exactly 10         +1000
7178     Exactly 11         +1200
7179     12+         +700
Must Play
Rot     A.J. Brown (PHI) Exact Receptions     Moneyline
7201     2 or Less         +650
7202     Exactly 3         +600
7203     Exactly 4         +450
7204     Exactly 5         +400
7205     Exactly 6         +450
7206     Exactly 7         +650
7207     Exactly 8         +1000
7208     Exactly 9         +1400
7209     10+         +850
Must Play
Rot     DeVonta Smith (PHI) Exact Receptions     Moneyline
7221     2 or Less         +700
7222     Exactly 3         +550
7223     Exactly 4         +425
7224     Exactly 5         +450
7225     Exactly 6         +450
7226     Exactly 7         +650
7227     Exactly 8         +1000
7228     Exactly 9         +1400
7229     10+         +900
Must Play
Rot     Quez Watkins (PHI) Exact Receptions     Moneyline
7241     Exactly 0         +300
7242     Exactly 1         +175
7243     Exactly 2         +250
7244     Exactly 3         +600
7245     4+         +1000
Must Play
Rot     Dallas Goedert (PHI) Exact Receptions     Moneyline
7271     2 or Less         +500
7272     Exactly 3         +500
7273     Exactly 4         +425
7274     Exactly 5         +400
7275     Exactly 6         +500
7276     Exactly 7         +700
7277     8+         +550
Must Play.
Rot     Miles Sanders (PHI) Exact Receptions     Moneyline
7281     Exactly 0         +225
7282     Exactly 1         +165
7283     Exactly 2         +300
7284     Exactly 3         +700
7285     Exactly 4         +1400
7286     5+         +1200
Must Play.
Rot     Kenneth Gainwell (PHI) Exact Receptions     Moneyline
7291     Exactly 0         +500
7292     Exactly 1         +225
7293     Exactly 2         +225
7294     Exactly 3         +425
7295     Exactly 4         +900
7296     5+         +1600
- Dan Shapiro, Gambling911.com