666Bet.com Back Peddling on Payout Promise: 'We Can Only Pay When Back Online'
Published on:
Apr/15/2015
Beleaguered 666Bet.com issued a statement on Tuesday informing its customers they can only pay if back up and running online.  This comes after assurances the company would refund customers once its licensing authority gives the green light.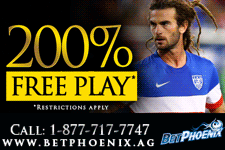 On Monday the firm issued this statement:
"We apologise for the continued delay in returning customer funds. We are currently seeking the appropriate approval from the UK Gambling Commission to re-open 666BET and Metro Play to enable customers to access their accounts. We hope to have further news shortly. Thank you once again for your continued patience but please be assured that we are doing all we can to return our customers' funds."
That initial statement fell on deaf ears as both licensing bodies, Alderney Gambling Control Commission and the UK Gambling Commission, have already demanded that customers be paid.
666Bet.com sought to clarify their position by suggesting they were in the process of working with a vendor that would help get them back online. 
The firm wrote:
"While the UK Gambling Commission (UKGC) have stated that we do not require a licence in order for customers to withdraw their money and authorised us to do so, this is misleading as it does not recognise the fact that, as a web-based company, we need to be online in order for customers to action their withdrawals via their accounts.
"In order to get back online we need the help of a third party provider. Following the suspension of our licences, a number of our third party providers immediately cancelled or suspended our contracts with them, including payment providers. We therefore do not currently have the ability to pay customers out unless we reach an agreement with other providers to return.
"We have been in negotiations with a third party provider to allow us to return so customers can authorise withdrawals, quickly and smoothly. Our potential provider explicitly informed us in good faith that this move needs to be sanctioned by the UKGC. We were further told that this was expected yesterday but so far we have yet to receive an update from either party."
666Bet.com Director Paul Bell was implicated by the HM Revenue & Customs and the National Crime Agency for his alleged role in a murky fraud scheme referred to as "Operation Bannock".
The site abruptly came offline March 20.  At the time 666Bet's head of brand, Neil Andrews, told the Independent: 'I can categorically state the investigation does not relate to 666Bet's activities in the gamin (sic) world.'  
666Bet had sponsorship deals with a handful of football clubs, including Leyton Orient FC as well as Barclays Premier League clubs Leicester City and West Bromwich Albion.
Players have filed a petition with Change.org in an effort to recover funds. 
- Aaron Goldstein, Gambling911.com