Umbrella First Song During Super Bowl Halftime Show Pays Out $1000 at This Sportsbook
Published on:
Feb/08/2023
If you plan to bet on this year's Super Bowl Halftime Show, the First Song Played, you can get Rihanna's Umbrella at 10-1 odds for a payout of $1000 on a every $100 bet or $100 for every $10 bet.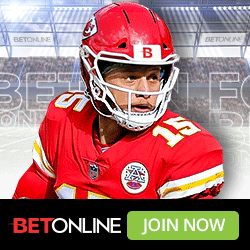 BetOnline was offering the generous odds on one of Rihanna's biggest hits.
The Barbadian singer has 14 hit songs that went to No. 1 on the chart, Umbrella being one.
The song was released as the lead single for Rihanna's third album "Good Girl Gone Bad." It reached No. 1 on June 9, 2007, and topped the chart for seven consecutive weeks.
Oddly enough that massive hit went through various musical artists, each rejecting the song before Rihanna finally picked it up.
No matter the sportsbook, Diamonds is tending to be the favorite.  At BetOnline, it pays out $25 on a $10 bet (5/2 odds or +250)
First Song Performed Prop Super Bowl 2023 Rihanna
Diamonds
5/2 
(+250) - pays $25 for every $10 bet
This Is What I Came For 
4/1 
(+400) - pays $40 for every $10 bet
Where Have You Been 
9/2 
(+450) pays $45 for every $10 bet
Don't Stop The Music 
5/1 
(+500) 
Stay
15/2 
(+750) 
Rude Boy
10/1 
(+1000) 
Umbrella
10/1 
(+1000) 
We Found Love 
12/1 
(+1200) 
What's My Name 
12/1 
(+1200) 
Only Girl (In The World) 
18/1 
(+1800) 
Work
25/1 
(+2500) 
Hate That I Love You 
40/1 
(+4000) 
More Rihanna Prop Bets
Rot     Number of Songs Performed During the Half Time Show     Moneyline
22221     Over  8½  Songs     -115
22222     Under  8½  Songs     -115
BetUS' decision is final. Wagers placed after information becomes public knowledge will be void.
Rot     Super Bowl Halftime Show Rihanna Hair Color     Moneyline
22225     Black         -550
22226     Blonde         +400
22227     Red         +700
22228     Pink         +1000
22229     Purple         +1000
22230     Blue         +1200
- Jordan Bach, Gambling911.com