Toby Gerhart Claims Race Will Play Role in 2010 NFL Draft
Published on:
Apr/21/2010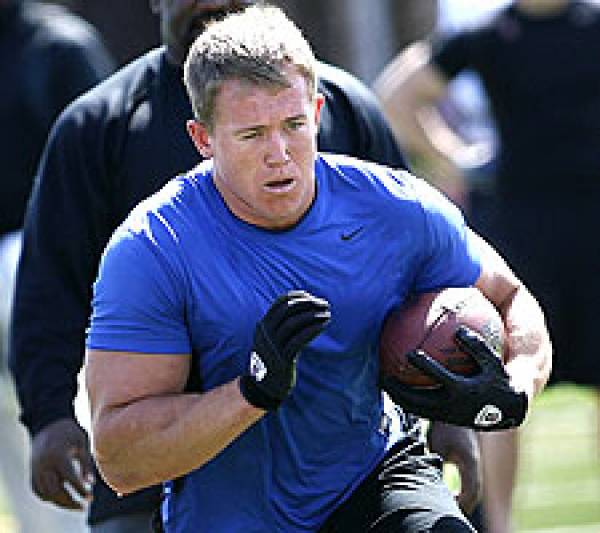 Former Stanford halfback and Heisman Trophy runner-up Toby Gerhart may not be selected in the first round of the 2010 NFL Draft because he is.....white.
From Yahoo Sports:
When NFL scouts look at Gerhart, they see a 6-foot, 231-pound power back who ran for 1,871 yards and 27 touchdowns last season, getting edged out by Alabama's Mark Ingram in the closest Heisman vote in history. When they look at Gerhart's numbers from the NFL scouting combine, they see that he ran a 4.50-second 40-yard dash and registered a 38-inch vertical leap, both impressive numbers for a player his size.
Yet they also see a white guy trying to make it in the league as a feature back, something that has become increasingly rare in this era.
"One team I interviewed with asked me about being a white running back," Gerhart says. "They asked if it made me feel entitled, or like I felt I was a poster child for white running backs. I said, 'No, I'm just out there playing ball. I don't think about that.' I didn't really know what to say."
One longtime NFL scout insisted that Gerhart's skin color will likely prevent the Pac-10's offensive player of the year from being drafted in Thursday's first round.
"He'll be a great second-round pickup for somebody, but I guarantee you if he was the exact same guy - but he was black - he'd go in the first round for sure," the scout said. "You could make a case that he's a Steven Jackson-type - doesn't have blazing speed but he's strong and powerful and versatile." 
Sportsbetting.com had all your 2010 NFL Draft betting odds here
Tyrone Black, Gambling911.com