Tim Tebow Suffers Bruised Lung, Rib Injury (Sports Betting News)
Published on:
Jan/18/2012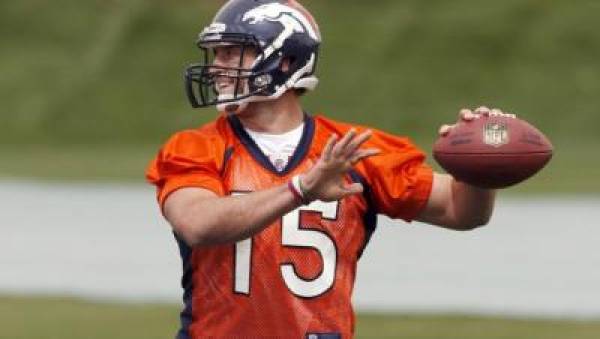 Denver quarterback Tim Tebow suffered through agony while playing the whole second half of the Denver game against New England this past week.
According to ESPN.com, Tebow's injuries came as the result of a hit in the pocket when Tebow was pressured after throwing a pass.   The Patriots ended up winning against Denver in a 45-10 rout. 
From ESPN.com: 
Because of the severe pain, Tebow had trouble sleeping over the weekend, then had an MRI on his chest Monday to determine the extent of the damage. He has been undergoing rehab throughout this week.
Even with the injuries, it is believed Tebow will begin his offseason training program according to schedule.
How this situation will affect the sports bettor:
This news is significant in that, while New England was certainly dominant during this game, the lopsided score may have been less lopsided had Tebow been healthy during the second half.  The current -7.5 line in favor of New England is based partially on how well they played this past Saturday (the Giants line of +1 is even more so based on their defeat of Green Bay as they would otherwise have been listed closer to +7 against San Francisco if the game were going off two weeks ago).  The total, in particular, has been going absolutely crazy on this game, from -47 to the current -50.5. 
Tebow was to play as the alternate in the upcoming NFL Pro Bowl so watch for the line on that game to move rather dramatically, combined with the uncertainty of which quarterbacks will now be starting. 
- Don Shapiro, Gambling911.com